When it comes to rugged, dependable SUVs, Toyota is definitely one of the undisputed kings of that category. The original Land Cruiser at the request of the Japanese military, and like with other military vehicles across other regions of the world, Toyota eventually put together a civilian version, which then morphed into one of the most iconic SUVs of all time, which ultimately lead to skyrocketing values.
By the '80s, Toyota was realizing that massive off-road-focused SUVs weren't that useful or practical for a lot of buyers. Some buyers wanted a SUV that would still be pretty capable, but smaller and more appealing to a wider demographic. This led to the debut of Toyota's first ever Recreational Active Vehicle with 4-wheel drive, or the RAV4, in 1995.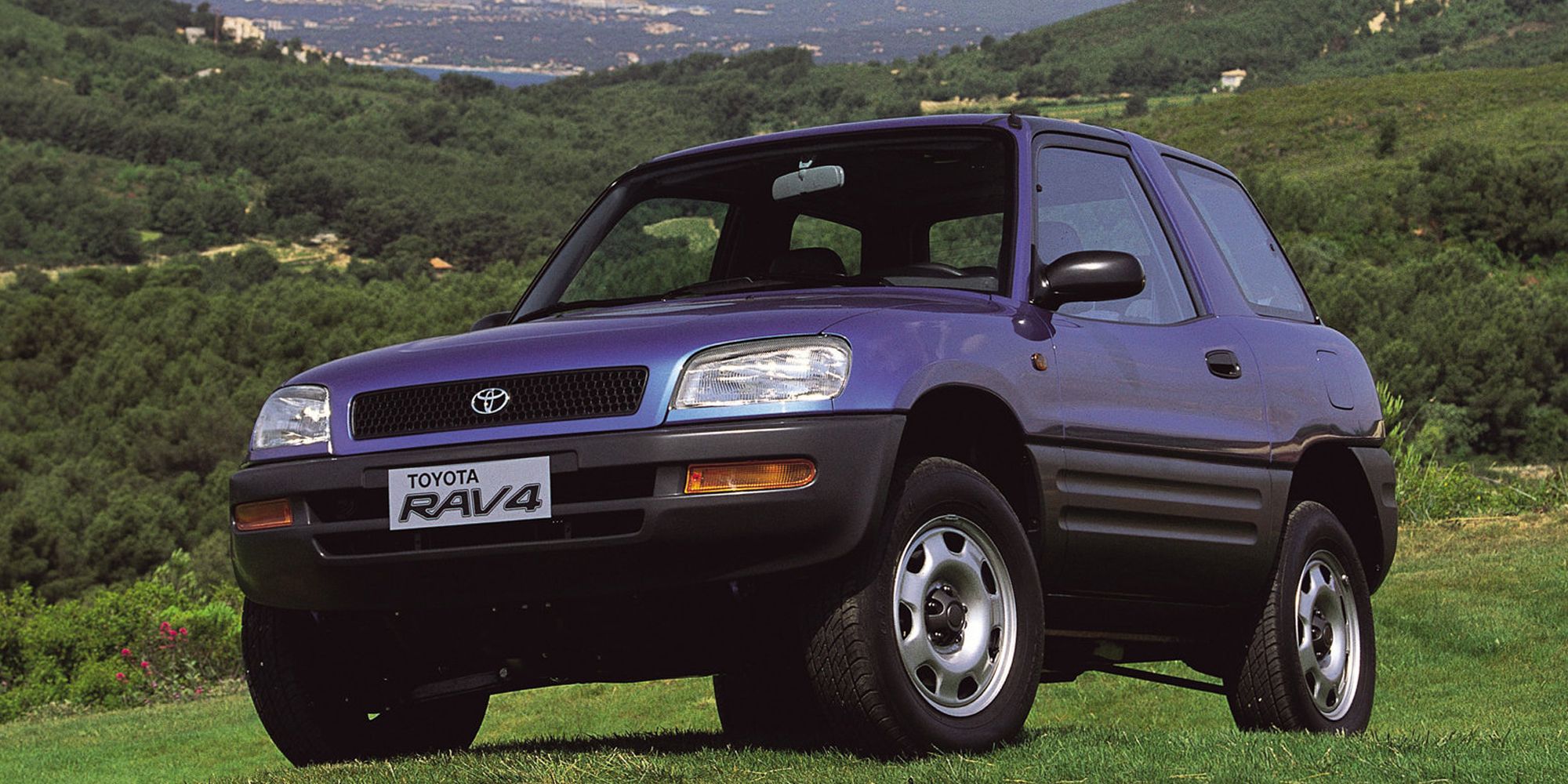 Key Features
Available 4WD
Available manual transmission
Cool factor
Specifications
Model: RAV4
Engine/Motor: 2.0-liter N/A four-cylinder
Horsepower: 119-127 hp
Torque: 129 lb-ft
Drivetrain: Transverse front-engine, FWD / 4WD
Transmission: 5-speed manual / 4-speed automatic / Single-speed transmission (EV)
Range: 95 mi (EPA) (EV)
MSRP: $21,600 (base when new)
Pros
Charming looks
Reliable is an understatement
4WD versions are capable
Cons
Lack of modern amenities
Difficult to find nice examples
EV is impossible to find
1995-2003 RAV4 Overview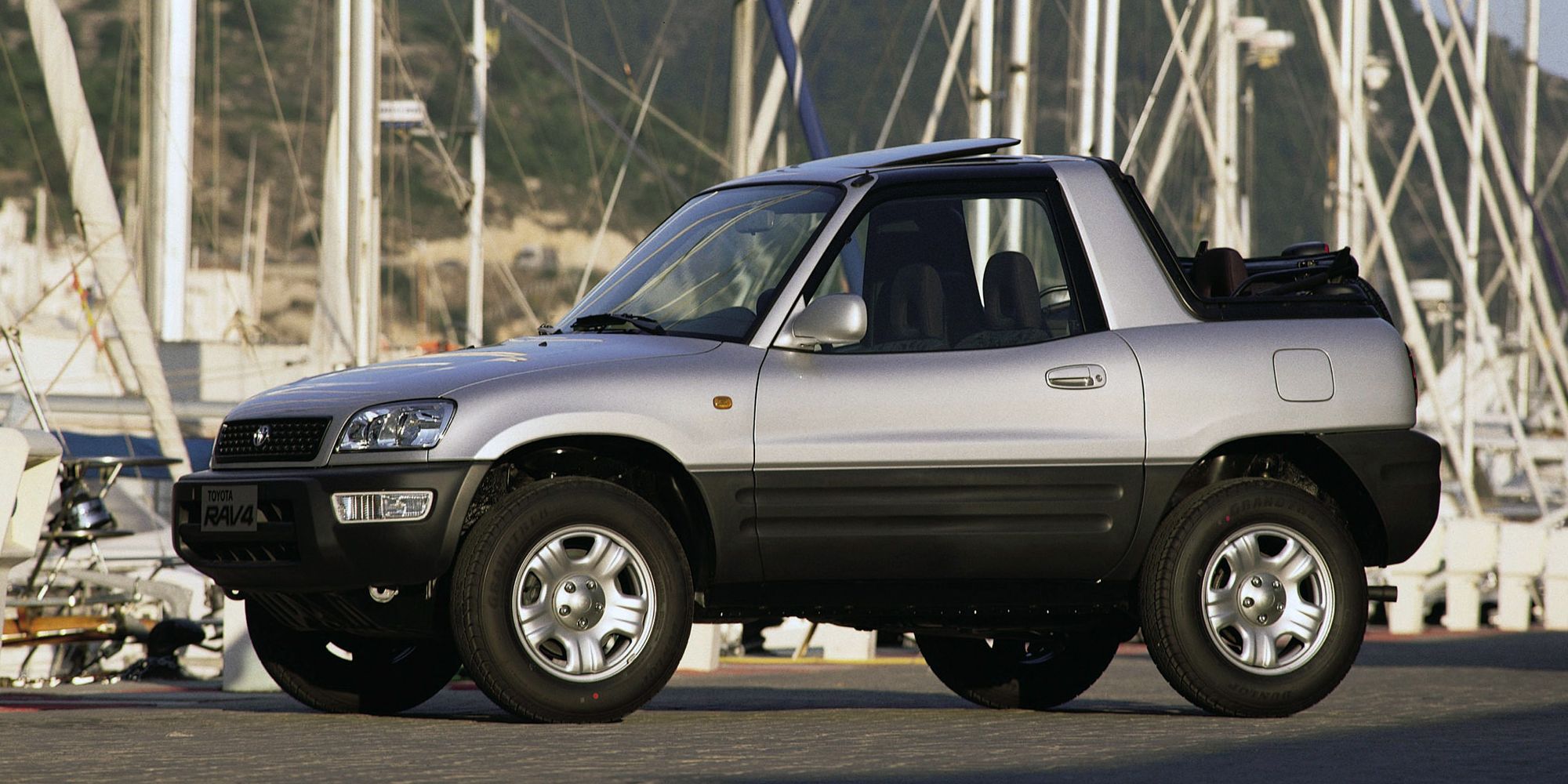 The original Toyota RAV4 arrived in 1994 as a 1995 model year vehicle. Development started in the late 1980s as a smaller, but capable 4×4 that could sit below Toyota's 4Runner and Land Cruiser off-roaders. Unlike those two, the RAV4 doesn't completely forego a focus on on-road dynamics, but it's still a very capable vehicle with 4WD equipped. Another way the RAV4 differs from its SUV siblings is the size, as it's significantly smaller.
RELATED: These Are The Toyota RAV4 Model Years to Avoid
The size of the RAV4 and its looks definitely give it lots of charm and personality. The front end is pretty standard, with rectangular headlights and the Toyota logo right in the middle. The side profile is very typical SUV, with those signature indentations on the lower parts of the doors. The spare tire covers up most of the rear end, meanwhile. Due to its very short wheelbase and its cutesy off-roader styling, the RAV4 just oozes character, and SUVs like this just aren't around very much anymore. Even the latest RAV4 is a radically different vehicle.
Toyota offered the original RAV4 in three different body configurations. There was a three-door, in either hardtop or convertible forms, and there was a five-door. The five-door was the preferred one if you wanted to carry more than two people on a regular basis, since that one also has a longer wheelbase. Vehicles like the RAV4 weren't very common back in the mid 90s, but eventually, other automakers started to catch up. The RAV4's only true competitors at the time were the Honda CR-V, and the Land Rover Freelander.
1995-2003 RAV4 Powertrains
The powertrain situation in the original RAV4 is rather interesting. Toyota offered two different four-cylinder engines on the RAV4 in most cases, both of them 2.0-liter units. The first derivative put down 119 hp, but later on, they bumped it up to 127 hp. That may not sound like a lot of power, but it was perfectly good for the RAV4, as this car weighed around 2,500 lbs, significantly less than the current version, or indeed, most regular cars.
RELATED: Why The Toyota RAV4 Is A Very Reliable SUV
Both FWD and full-time 4WD were available, and power reached the wheels through either a five-speed manual transmission or a four-speed automatic. However, neither of the two four bangers were the most interesting powertrains that Toyota offered on the RAV4.
Toyota also built an electric version of the RAV4, with the primary purpose of fleet sales and leases in California. The EV had a 27 kWh NiMH battery pack that allowed it to go around 120 miles on a single charge. Not a massive figure by today's standards, but in 1997, that was a massive figure, and an amazing technical achievement. They also gave it a 60,000-mile battery warranty. Toyota sold very few examples of the RAV4 EV, as public sales were very short, and it was available exclusively in California, both for fleet leasing and for regular public sales.
1995-2003 Toyota RAV4 Interior, Features, And Reliability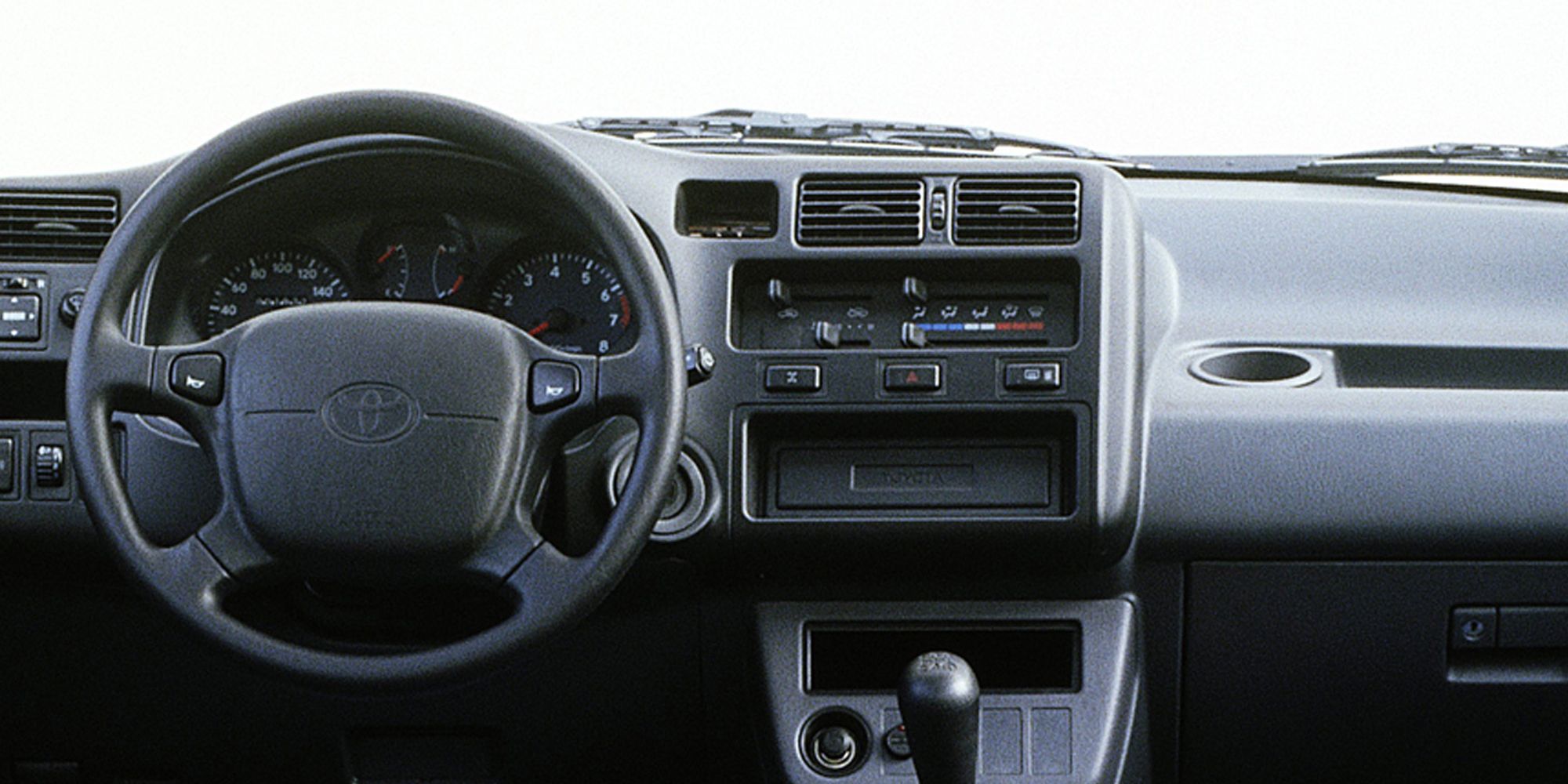 The interior of the RAV4 is very basic, and it features only the essentials. It's interesting to look back at a time when cars like this simply didn't have all that much in the way of equipment. In most RAV4 trim levels, air conditioning was completely optional. Fortunately, the RAV4 was ahead of the curve in some ways, as it offered dual airbags as standard right from the very beginning. The steering wheel is straight out of everyone's favorite, the Mk4 Supra, 4WD cars had the transfer case selector right next to the shifter, and that was about it.
In terms of reliability, there is not much to say. Ultimately, this is a Toyota from the 90s, and it's a Toyota in general, so it's practically bulletproof and cheap to maintain in the extremely unlikely event that something goes wrong. Other than the service history, make sure that the car you're looking at hasn't been doing too much harsh off-roading, because the factory drivetrain wasn't designed to take that much of a beating off the pavement. The three-door RAV4 seats four passengers, whereas the five-door car seats five passengers. The cargo area, meanwhile, offers anywhere from 14.3 to 22.8 cubic-feet of space.
1995-2003 RAV4 Prices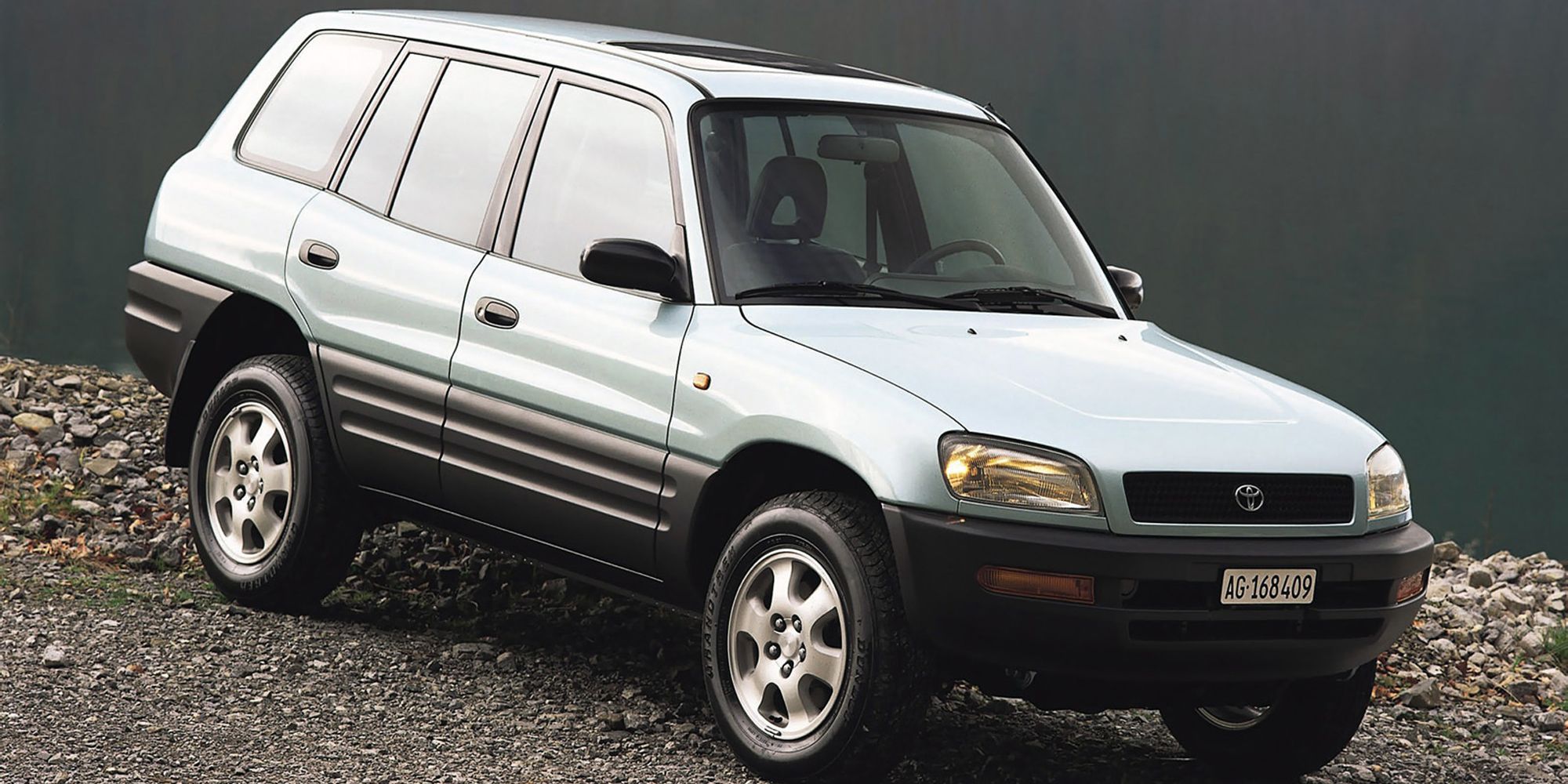 The first generation Toyota RAV4 is a very affordable old school SUV. However, it's a little difficult to find nice examples, as people used it and drove it like you might use and/or drive any 90s Toyota. Classic.com estimates that the average value of a first generation RAV4 is less than $8,000. A nice example will set you back some $5,000 to $6,000. The EV version is basically impossible to find, but if you do, one of those won't set you back more than $10,000.
RELATED: Come On An Adventure With Toyota And Their New Rav4 Hybrid Woodland Edition
This is a fantastic example of what small SUVs used to be like, and it's undoubtedly a future classic that you should definitely pick up if you want a super reliable tiny off-roader, not to mention the genesis of one of Toyota's most successful cars.