German auto giant Audi has taken the covers off the Activesphere, its latest electric vehicle concept car that can turn into a pickup truck from a crossover with off-road capabilities that offer next generation future technology with augmented reality and much more. The Activesphere is the fourth such concept EV from the carmaker after the Skysphere, Urbanshpere and Grandsphere. The last three models have been unveiled over the past two years. Activesphere is the fourth and the last in the quartet of future EVs from the Germans to showcase its EV roadmap.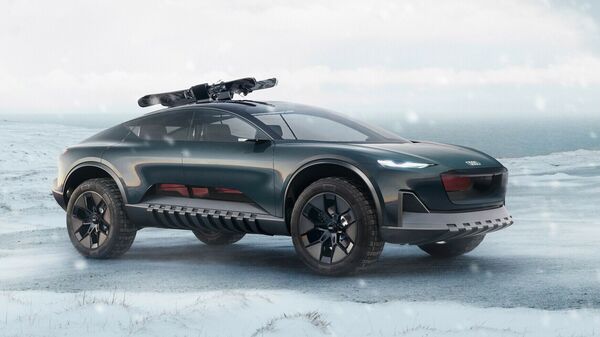 The Activesphere is based on the modern PPE platform which has been developed by the Volkswagen Group for use initially in Audi and Porsche cars. Audi Activesphere stands 4.98 meters long, 2.07 meters wide and 1.60 meters tall. The fact that its wheelbase reaches 2.97 meters contributes to a large interior space, allowing enough room for the occupants. Its wheels measure 22 inches and are made exclusively for the activesphere. They offer maximum traction both on and off the road.
The sporty coupe SUV can turn into a pickup within seconds. The adjustable suspension allows the car to be raised by 40 mm when trading off the beaten tracks. Audi Activesphere offers ground clearance of 208 mm. Audi also announced the off-road specifications of the Activesphere. The EV concept has an approach angle of 18.9 degrees while the escape angle is 28.1 degrees.
The highlight of the Audi Activesphere Concept EV is its cabin, which uses augmented reality for all of the vehicle controls like navigation, climate control and entertainment instead of a digital screen. For the first time in its history, Audi equipped the EV concept with a digital ecosystem called Mixed Reality. It offers VR glasses for the driver or passengers through which they can see in front of them. Essentially, it is a hybrid where a lot of information is projected 3D in front of the eyes of the user. Oliver Hoffmann, a member of the Board of Directors in the company's Technology Department, said, "The interior (of the cars) will be transformed into a place where passengers will feel at home. At the same time, they will be able to connect with the outside world. The most important technological innovation of the Audi activesphere is our adaptation to augmented reality for mobility. It creates the perfect synthesis between the environment and digital reality."
The activesphere offers the ability to move either fully autonomously or manually by the driver. Audi configured the dashboard accordingly to help both cases. The steering wheel remains integrated into it and retracts when the driver intends to take control of the car. As for its passengers, they can independently adjust the information they want to have at any time on their screens, while they can independently adjust the seats and windows.
First Published Date: 27 Jan 2023, 10:46 AM IST