Article content
Prime Minister Justin Trudeau re-affirmed the federal government's commitment Tuesday to position Canada at the centre of the EV revolution — where much of Windsor's hope for future prosperity lies — but made no specific new announcements on a visit to the city.
Article content
Following a tour of Stellantis's Windsor Assembly Plant, Trudeau said the federal government is sticking to the "really ambitious" target of ensuring every new vehicle in Canada will be zero-emission by 2035.
Article content
"We've got a lot of work to get there on that, but we're going to make it," he said.
"We're going to make sure we're investing in facilities that we've been investing in over the past year, and seeing big investments come into Canada in the zero emissions vehicle ecosystem to make sure we're able to meet the rising demand and the excitement Canadians have for electric vehicles — at the same time as we're ensuring the electric vehicles they're buying are made right here in Canada by Canadian workers."
Local MP Irek Kusmierczyk (L — Windsor-Tecumseh), Stellantis North America COO Mark Stewart, company president David Buckingham, Unifor national president Lana Payne, and Unifor Local 444 president Dave Cassidy joined Trudeau at the assembly plant.
Article content
The tour of the minivan plant was one of several stops Trudeau made Tuesday in Windsor. A contingent of protesters also spent the day following him around, shouting and waving anti-Trudeau flags. Following Trudeau's tour of the assembly plant, every vehicle in the sprawling parking lot had a copy of the conspiracy theory newspaper Druthers stuck under their windshield wipers.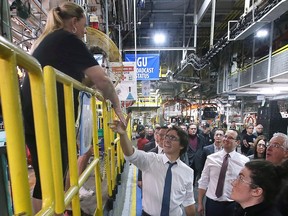 The Prime Minister first met with University of Windsor students shortly after 11 a.m. He stopped by the Centre for Hybrid Automotive Research and Green Energy (CHARGE) lab, which recently underwent a major expansion.
He was also set to appear at Willistead Manor Tuesday evening for a Liberal fundraiser.
Between those two stops, Trudeau made his second visit to Windsor Assembly Plant. He first toured the operation in October 2018 after attending a ceremony to mark the official start of construction on the Gordie Howe International Bridge.
Article content
He toured the plant again Tuesday for about 45 minutes, stopping to shake hands and chat briefly with dozens of autoworkers, before taking questions from reporters.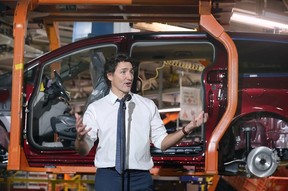 Trudeau did not directly address a question about whether the 2035 zero-emission mandate is based on ideology, as opposed to realistic goals, but said the key to making it happen will be creating the infrastructure and workforce.
"We know the fight against climate change is important, but we also know Canadians want to do their part," said Trudeau. "Canadians want to be able to buy electric vehicles. That's why the mandates are so important.
We're not just going to follow — we're going to lead
"But that's also why we need to make sure we're building up a world-leading ecosystem in North America to deliver those.
Article content
"The world is going in that direction, and Canadians, we're not just going to follow — we're going to lead through it."
Trudeau's Windsor visit came in the midst of ongoing international issues related to the auto sector that directly affect Windsor.
Canada is facing a battle for more industry investments, and for a second battery plant, in the face of the billions of dollars in subsidies offered in U.S. President Joe Biden's Inflation Reduction Act (IRA).
In October, Finance Minister Chrystia Freeland promised the government would be competitive and will address that in the coming federal budget.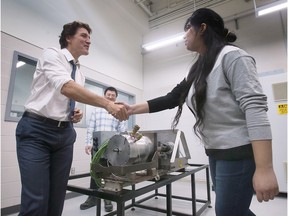 After landing the $5 billion battery plant — the largest private sector investment in the history of the Canadian auto industry — Windsor's focus has been on luring as much of the plant's supply chain as possible.
Article content
A few South Korean companies have stated Windsor is their preferred choice for a plant. They're looking for federal funding support, tax grants, or some other incentives, but have so far not secured any money from Ottawa. Each of those plants could bring up to 300 jobs to Windsor.
Groups like Invest WindsorEssex that are tasked with bringing investment to Windsor have been pressuring the federal government. They warn that if Canada doesn't offer something, it will lose those plants to nearby U.S. markets such as Ohio.
It's a vital issue because the supply plants, if they come here, would actually produce more jobs in total than the battery plant.
The people trying to bring in the investment have been concerned that both the federal and provincial governments might lose focus on the supply chain in pursuit of a second battery plant.