Deepak Pandit, an academic at BML Munjal University in Gurugram, is a bit confused. He is looking for a new car, and despite being an expert on the matter, he is not sure whether to go for an electric vehicle (EV) or a tried-and-tested internal combustion engine (ICE) car.
"The future is bright for EVs, but there are fundamental issues―there aren't enough charging stations. And once everybody starts charging vehicles, do we produce that much electricity?" asked Pandit, who is the chair professor at the Institute of Innovation and Entrepreneurship at the university. "Infra for charging is not there beyond urban areas, and how do you even claim the subsidies? Regulatory and scrapping [of used batteries] issues still remain. I am [still] debating."
It is a debate almost all Indians go through. India's auto industry hopes the Auto Expo 2023, from January 13 to 18, will help put these doubts and debates to rest.
But will it? Or is there more than meets the eye?
Maruti Suzuki, the nay-sayer among the electric crowd, kicked off its Auto Expo outing by unveiling its first electric SUV. The concept car is not immediately for sale, though. Maruti launched two ICE models as well, for the actual market.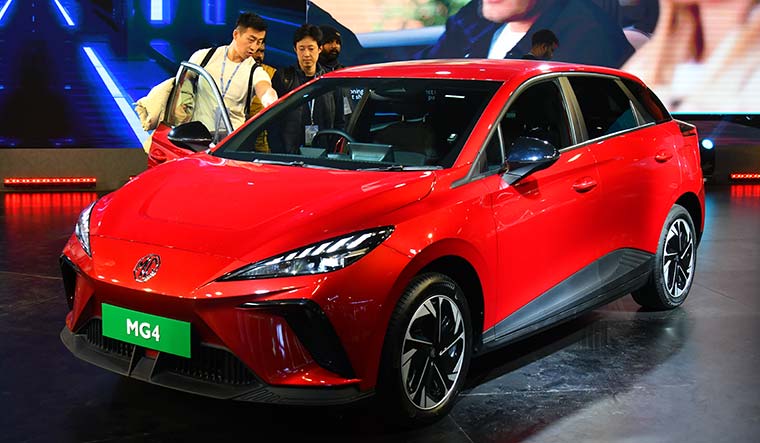 Electric dreams: MG4 | Sanjay Ahlawat
Others, too, have jumped on the bandwagon, in tune with the Expo's themes of sustainability and connectivity. While Hyundai launched its much anticipated IONIQ 5 EV, Tata Motors, which has an early-mover advantage in India's nascent EV car segment, launched EV versions of Harrier and Sierra.
MG Motor India not only unveiled a new variant of the Hector, its original 'internet inside' car, but also is set to shake up the market with as many as three new EV launches, the MG4, the MG5 and the MG6.
The line-up on the two-wheeler side―which has seen more traction in the EV space with a host of startups making their presence felt―is even bigger. Mumbai-based Liger will showcase the world's first self-balancing electric scooter, while nostalgic motobuffs can welcome back LML, which once straddled India's scooter segment with its Vespa tie-ups, this time in an all-electric avatar. Ultraviolette, promoted by actor Dulquer Salmaan, is expected to launch its high-performance electric bike at the expo.
Interestingly, all this 'electrifying' action is not limited to new model launches, but covers the whole gamut from battery technologies to innovations in connected mobility. But the question is, are we putting the cart before the horse?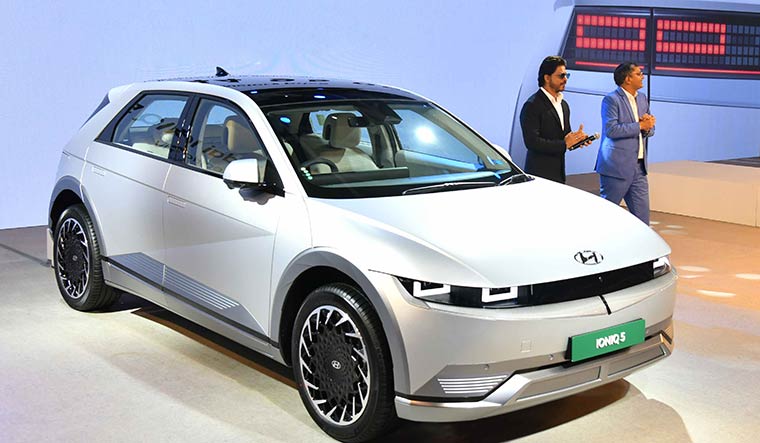 Hyundai IONIQ 5 | Sanjay Ahlawat
"Researchers say that about 17 to 20 per cent of cars will be EVs by 2030; then what about the rest?" asked Shashank Srivastava, senior executive officer of Maruti Suzuki.
Auto makers, who had resisted a NITI Aayog suggestion a few years ago that only EVs be sold in India, have since then seen the writing on the wall. But it has not been easy. Rajat Verma, CEO and founder of Lohum, a battery technology company, puts it in perspective, "It is not a question of the market being ripe or not. It is imperative for us to transition to Evs."
That brings with it its own problems, though. While EVs have had a fabulous time of late―the government's Vahan portal says more than 10 lakh EVs were sold in India in 2022, a three-fold increase from the previous year―four-wheeler passenger EVs have been lagging, clocking at just about 18,000 cars in the first six months of this financial year.
The reasons are not far to seek. Despite the subsidies provided under the government's Faster Adoption of Hybrid and Electric Vehicles (FAME 2) policy and a few sops by some states, EVs still do not match up in the cost-to-performance ratio. Then, there is the hurdle of battery and charging. Range anxiety―the fear of an electric vehicle running out of charge while being out on the highway and without a charging station on the horizon―is very real in India. The number of authorised charging stations, as per the government's E-AMRIT portal, is less than 1,000. Counting in private charging docks takes the number to 1,800 or so. To make matters worse, almost all of them are in urban areas.
Battery technology and standardisation continue to be irritants. "The total time taken to charge the battery of an EV depends on its capacity and miles offered. High-end vehicles will undoubtedly take a longer time to get fully charged. Even though governments are trying to improve the availability of charging stations and further increase electricity generation, the presence of merely 1,800 charging stations in a geographically large country such as India is not enough to present a strong case for EVs," said Greg Moran, CEO and co-founder of the car sharing platform Zoomcar.
Looming on the horizon is the big geo-strategic worry of an over-dependence on China for the lithium ion battery technology. "Lithium and many components come from China. From a policy perspective, the government will have to take a call," said Pandit. "Once everybody gets on the EV bandwagon and there is a huge demand for lithium ion batteries, it will become like oil."
From depending on West Asia for oil, will we end up depending on East Asia for batteries?
"Trends indicate that battery material shortfall in the near future is almost inevitable," said Verma of Lohum. "Depending on imports would lead to continued geo-strategic monopoly of a few nations over raw materials, enabling them to control prices with disproportionate influence." Companies like Lohum salvage lithium ion battery raw materials through recycling and low-carbon refining, but more needs to be done. "Supply constraints are unlikely to wear off until we fully indigenise the supply chain," said Verma.
Localisation efforts are already on―the government has offered a production-linked incentive scheme for advanced chemistry cell (ACC) batteries. A big ticket investment in the area is Suzuki's Rs10,000 crore for electric vehicles and batteries in Gujarat.
While batteries and raw materials are a problem area, an issue that most people do not realise is that the electricity that powers electric vehicles may not necessarily be clean. "We should be talking not just about the tailpipe emissions (where EVs are far superior, with emissions almost negligible), but also well-to-wheel―what total emissions it takes to produce the electricity," said Srivastava of Maruti Suzuki. "For example, in India, most of the electricity is made from thermal power, which is actually quite polluting." In fact, Maruti's argument has been that EVs are not the only route to achieve zero carbon emission norms, but it could also be cleaner fuels like CNG or biofuel.
"It will be tech agnostic," said Srivastava, "Which means, as long as you achieve those emission targets by deploying any technology, whether it is EVs or hydrogen, it works."
"The market is poised on an upward trajectory and the mix is changing, first from hatchback and sedans to SUVs, [and now] EV is in the mix," said Pandit. "We will definitely use EV, but there could be one or two new technologies in between which could make us go in a different direction. Right now, the candidate technology we have is hydrogen and lithium ion, and that could change to sodium ion batteries. Technology round the corner will address which road we take."