Known for capturing the hearts of both car and movie enthusiasts with the original DeLorean which featured in "Back To The Future," DeLorean Motor Company is set to release another innovative masterpiece in 2024, the DeLorean Alpha5. A keen rival for the Tesla Roadster and Porsche Taycan, the Alpha5 flaunts a modern take on Doc Brown's time machine that sees the company's first new design after 40 years. The stunning DeLorean Alpha5 is set to kick off a revolutionary era for the American automotive company, and after this beauty rolls out of production in 2024, a V8-powered sports beast and a hydrogen-powered SUV are to follow suit.
A lowered body and sharp slashes make up the Alpha5's silhouette and provide sports car enthusiasts with an insight into what exciting creations DeLorean could release and how they are aiming to push boundaries beyond what the market has seen before. It's cool, it's futuristic, and it's down-right gorgeous; the 2024 DeLorean Alpha5 will hit the automobile market in less than two years, and it's certain to cause a stir.
Related: This New Hot Wheels DeLorean DMC-12 & Alpha5 Collector Set Could Be Worth A Lot Very Soon
The 2024 DeLorean Alpha5 Is Expected To Have A 300-Mile Range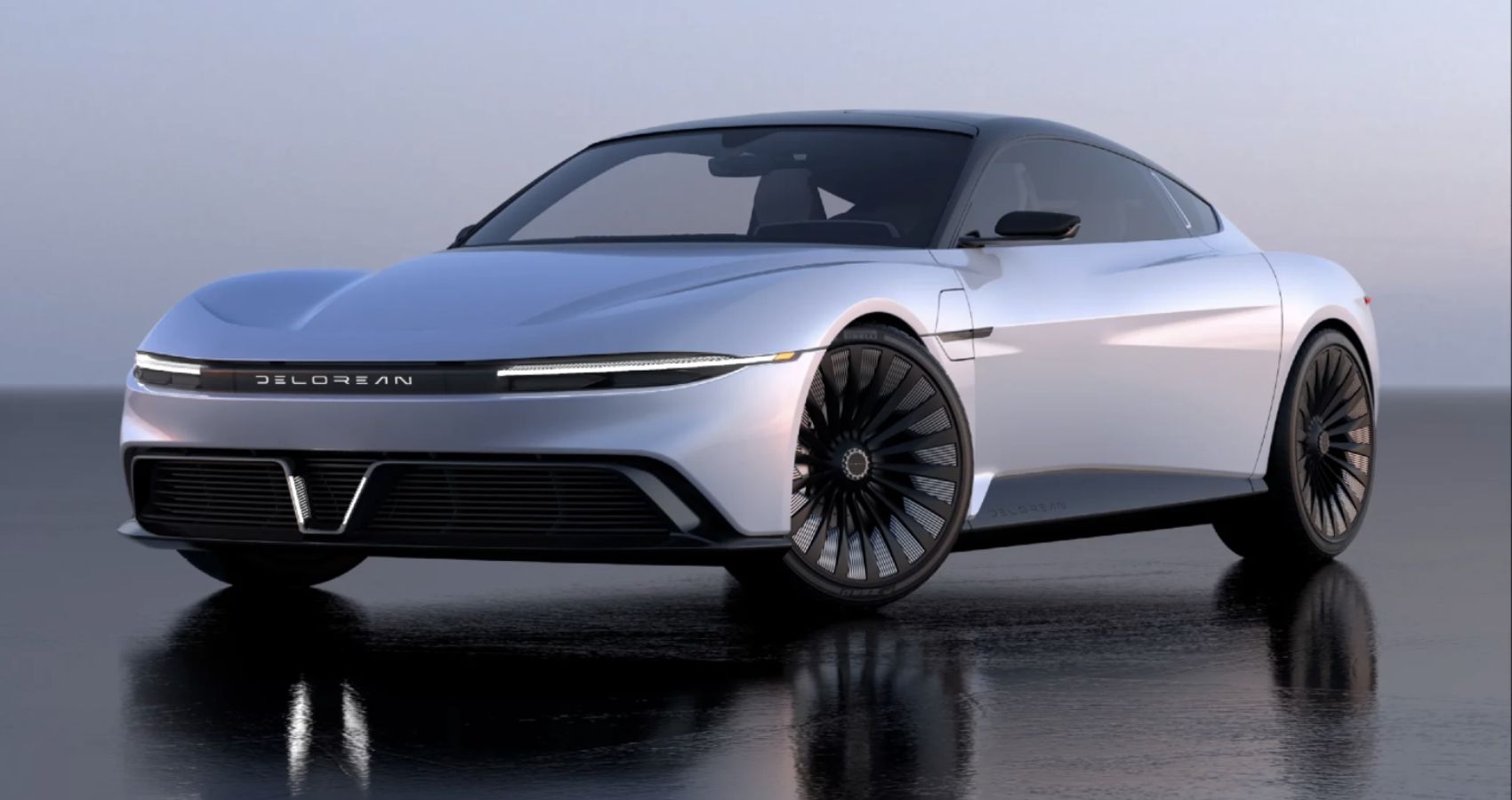 Keen to power past the BMW iX3 and Mercedes EQS, the Alpha5 is likely to sit on unique outsourced electricals and will have a powerful dual-motor set-up. The American-base automotive brand has revealed that the exciting Alpha5's performance will be fierce enough to match, if not beat, that of the Porsche Taycan. The Taycan boasts 322 horses, with a top speed of 150mph. Sure, the Porsche Taycan accelerate from 0 to 60 mph in 5.1 seconds, but the upcoming Alpha5 is set to do so in less than 3 seconds. Undoubtedly, the DeLorean Alpha5 will impress in all departments, and we think its performance will be extraordinary.
Related: Everything You Need To Know About The DeLorean DMC-12 And What It Takes To Own One

The DeLorean Alpha5 sure is a looker, and it's out to impress. Gullwing doors are very reminiscent of the original DMC-12, although non-movie enthusiasts would never see the relationship between the two. Larger than ever, the Alpha5's swooping doors open to reveal both rows of seats, offering a glimpse of what futuristic treats this beast will delight its owners with.
Although extremely unique in its looks, the DeLorean Alpha5 is ever so slightly reminiscent of a Chevrolet Camaro. Its hood overhangs drastically, finally reaching an abrupt peak which falls down a minuscule grille which features two LED light-bar headlamps on either side of stylish DeLorean lettering. The Alpha5's side profile is subtle and organic, featuring swooping curves and striking lines. Head around the rear and things get even more unique. A cut-out-styled trunk is dressed in one stretched LED taillight, where two further, smaller lights sit under each side. A radiator-esque design flaunts itself over the rear of the hood, further extending its futuristic feel.
The DeLorean Alpha5's interior continues its preemptive modern feel. Creating a perfect replication of the screen seen in Doc's DMC-12, the Alpha5 boasts its focal point, a digital instrument panel, which can be viewed through its lightweight, flat-bottom steering wheel, which is dressed in rich black and gray materials. The dashboard is made up of simple lines which lead to the Alpha5's second screen, a further digital screen perched in the center of the cabin. Here, on the heightened floating central compartment sits numerous physical controls which tweak the cabin's air conditioning system. Beneath sits a spacious wireless charging tray, roomy enough for numerous electronics. The rear seats are provided with masses of space and an impressive amount of legroom, whilst a central compartment sections the two rear seats, offering an armrest as well as a storage compartment.
Although DMC badging was to be expected, the Alpha5 displays a cool V-shaped icon on both bumpers, with a splitter upfront and a refined diffuser to the rear. Flaunting cool, never-before-seen features, the DeLorean Alpha5 is sure to cause a stir when it hits the automotive market in 2024.
The 2024 DeLorean Alpha5 Is Expected To Carry A $120,000 Price Tag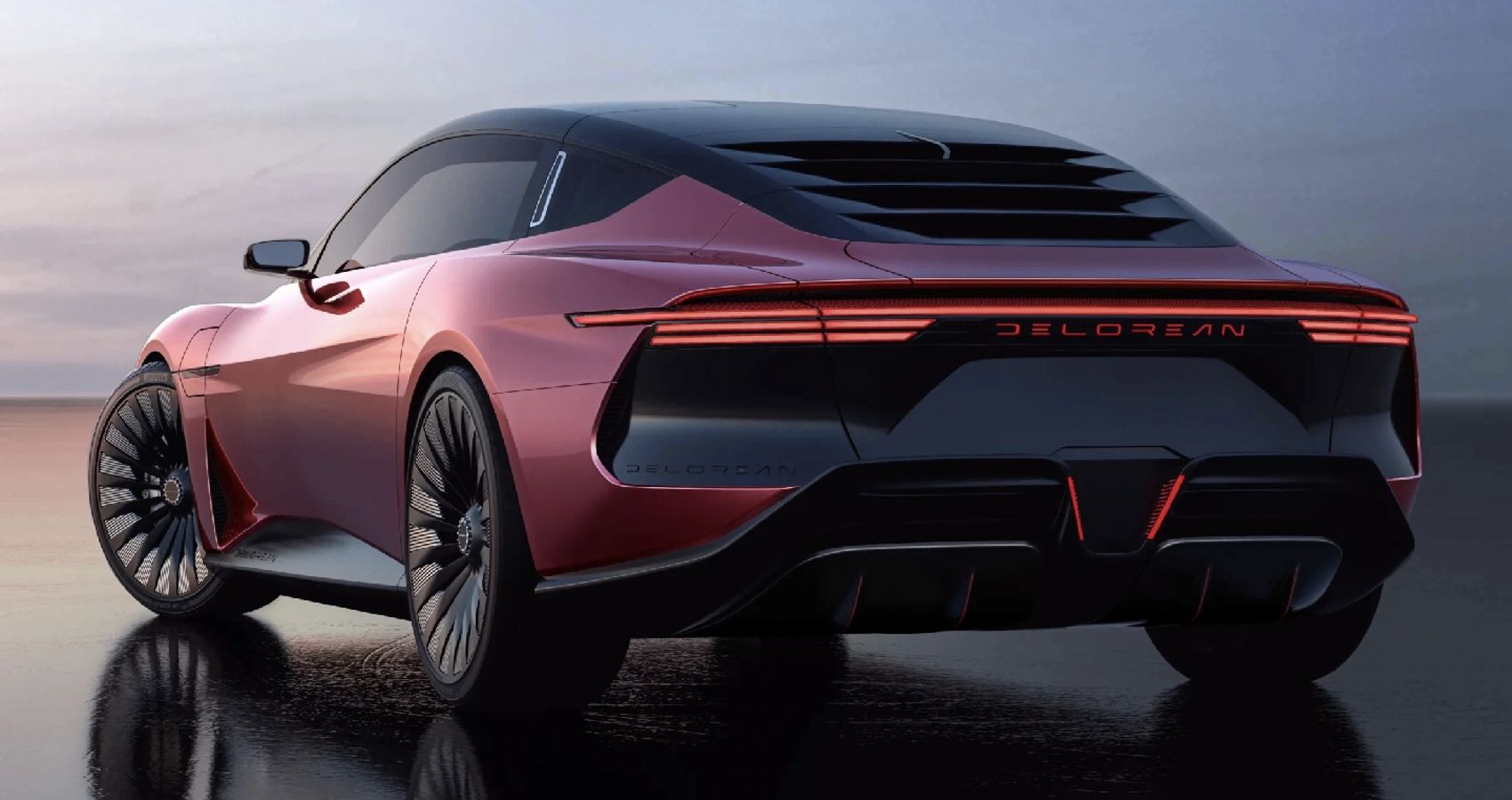 Although performance specifics have been kept to a minimum, there have been numerous suggestions that the American brand has entrusted a British company with providing its powertrain. Considering the British brand, Lotus, was highly involved in the development of the original DMC-12, there has been no confirmation that this is the case for the new Alpha5, although many car enthusiasts would love to see it.
Expected to carry a hefty price of around $150,000, the DeLorean Alpha5 certainly lives up to its relatives' legendary name, with huge gullwing doors and a show-stopping design. Expected to supply the performance to complement its gorgeous looks, the Alpha5 is sure to be well-received. At 5m long and 2m wide, gearheads should start measuring their garage, to ensure the stunning DeLorean Alpha can roll in comfortably.
Source: DeLorean Motor Company