There's a lot of excitement around Tesla's 2023 Investor Day, and for good reason. From Elon Musk's Master Plan Part 3, details on the company's third-generation platform, and discussions on how Tesla could each extreme scale, Investor Day promises to be an event that is one for the books. 
Elon Musk has emphasized that Investor Day is really a lot bigger than the company's shareholders. In past comments, the CEO noted that the "investors" Tesla is referring to in the event are pretty much all life on Earth. Yes, everyone, Tesla is thinking *that* big.
Following is a Live Blog of Tesla's 2023 Investor Day. Please refresh this page regularly for the most recent updates. 
16:11 CST – Colin Campbell, leader of powertrain engineering, takes the stage. He noted that Tesla is known for speed. He highlighted that Tesla is all about efficiency. He noted that Tesla is able to achieve its efficiencies by moving as one company. Changes can then be made to both vehicles and factories. Everyone works together.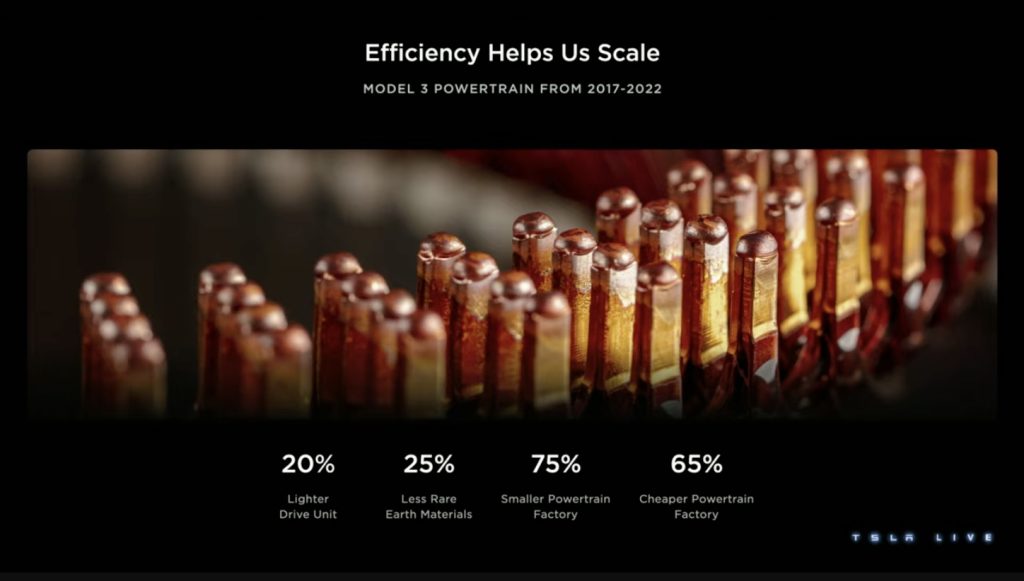 16:07 CST – Franz and Lars noted that in the next-generation vehicle, more people (or robots) should be able to work simultaneously. Lars noted that this gives more operational density. More space time efficiency. This makes automation a lot easier. Tesla lists this as an "unboxed process."
Franz and Lars noted that Tesla's next-gen manufacturing would reduce 50% of costs.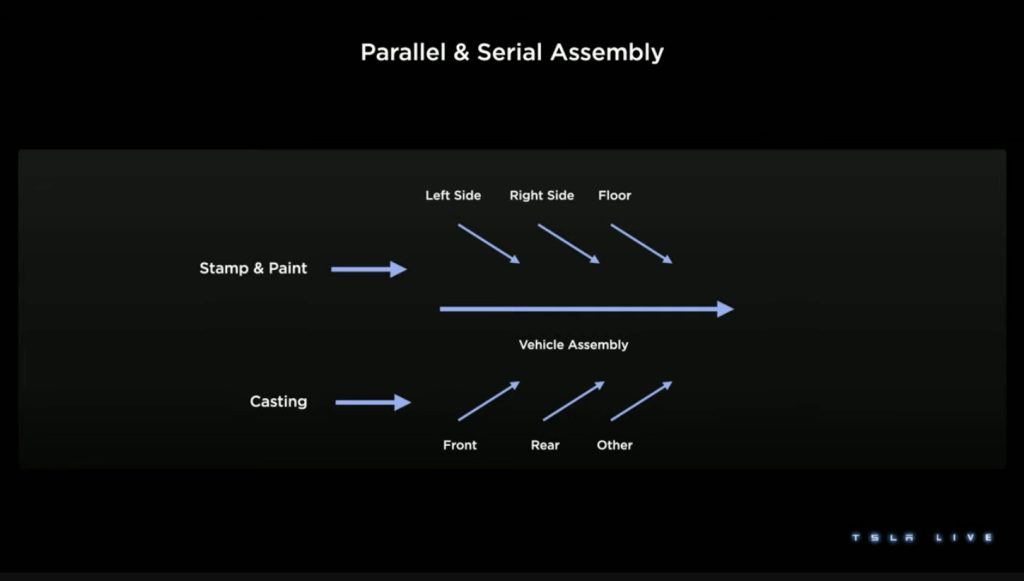 16:04 CST – Franz and Lars discuss the traditional way to assemble a vehicle, from stamping, body, paint, and final assembly. Lars note that this is great, but delays in one line stops the entire thing. He stated that there are a lot of inefficiencies in the process. Lots of areas for improvement.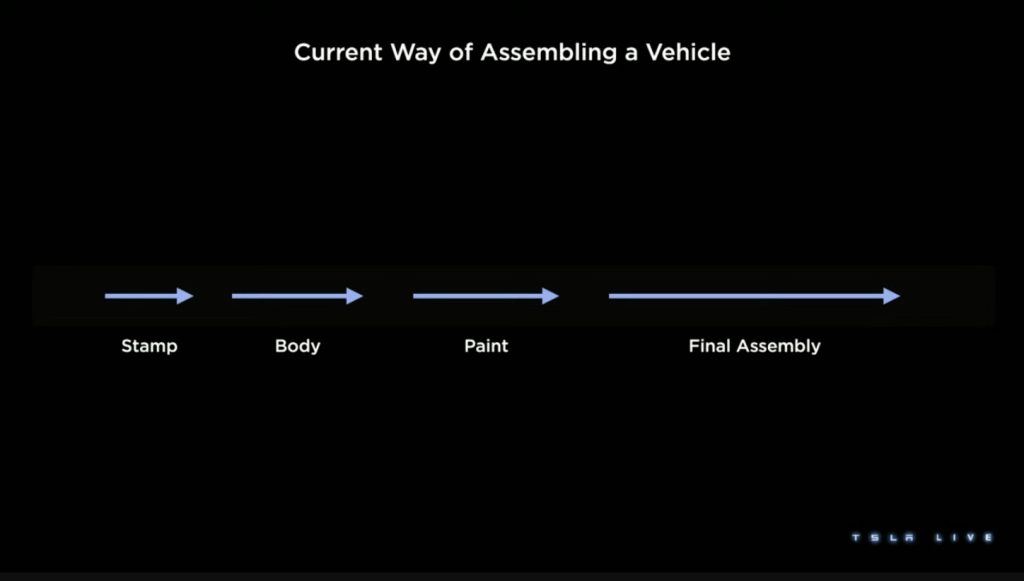 16:02 CST – Franz and Lars noted that Cybertruck is a completely different animal. It is then a vehicle that needs to be approached in a completely different manner. Cybertruck was designed with the manufacturing process in mind. Lars added that the Cybertruck actually makes its manufacturing footprint small, since it doesn't need paint or stamping. Franz reconfirms Cybertruck is coming this year.
16:00 CST – Franz and Lars noted that as time went on, Tesla had to approach its vehicles more differently. This was the case with the Model 3. The executives discussed production hell, which involved Tesla looking to manufacture a product designed to be built manually being built on an automated line. There were lots of lessons learned there. 
15:58 CST – Franz notes that during Tesla's early days, it was a lot different. There were only a handful of people then, but Tesla was already dead set on making a difference. Franz noted that Tesla's small teams before allowed the company to really focus on the nitty-gritty details of the car. The Model S is one of these, Franz and Lars said. 
15:56 CST – Franz von Holzhausen and Lars Moravy take the stage for Part 2. 
15:55 CST – Drew Baglino addresses the question of mineral use as the Earth shifts to a sustainable energy economy. Elon also reiterated his previous statements about lithium.He notes that the lithium in the United States is already very abundant. It's the refining of lithium that's a limiting factor today. 
Elon also noted that nickel is needed for aircraft, boats, and long-range cars. The vast majority of transportation will need iron. And with recycling in the picture, the resources that the world will need to shift to sustainability will be even more efficient.
15:53 CST – The Tesla executives highlighting that transitioning to a sustainable economy will actually involve less fossil fuels compared to what's currently being spent today. Here's a nifty little graphic.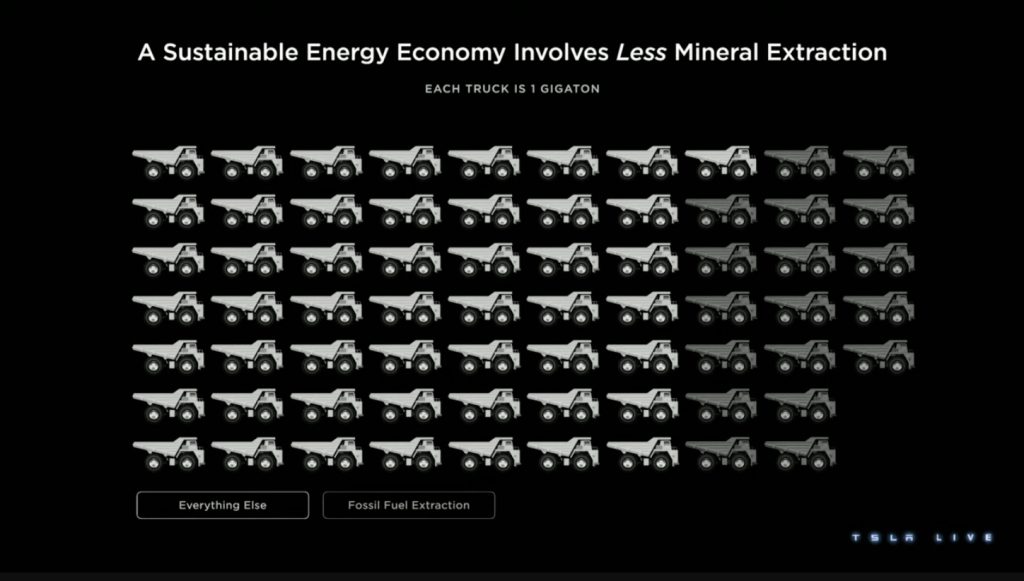 15:49 CST – Elon and Drew noted that these estimates for the investments needed to propel the world to sustainability are completely feasible.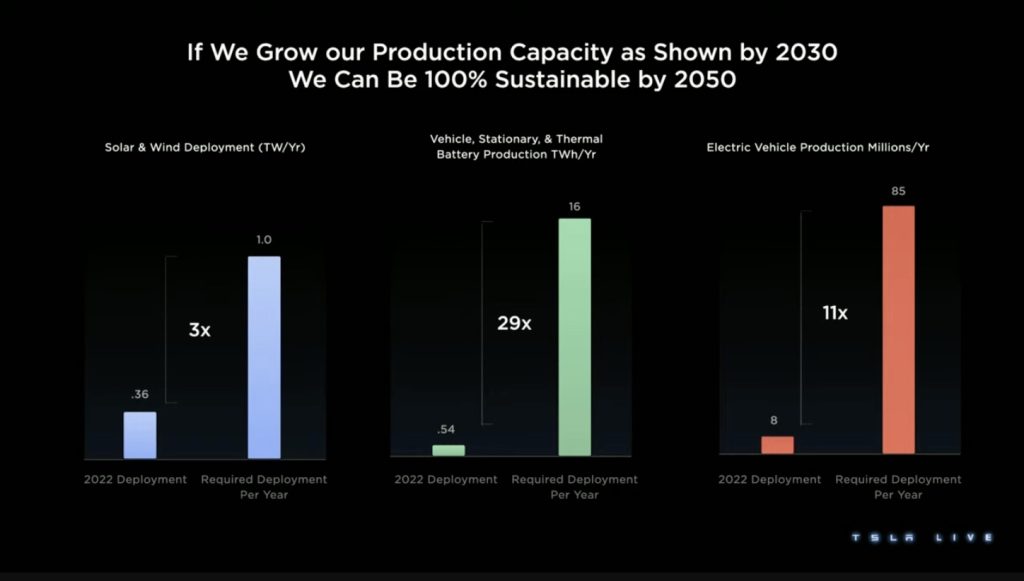 15:46 CST – Drew Baglino noted that heat pumps would go a long way toward making homes sustainable. From an industry perspective, heat pumps pave the way for efficiencies. He also discusses high temp heat delivery and hydrogen. Elon notes that hydrogen will be useful for industrial processes, but it is NOT something that should be used for cars. He also sheds light on the need to shift the shipping industry to sustainability.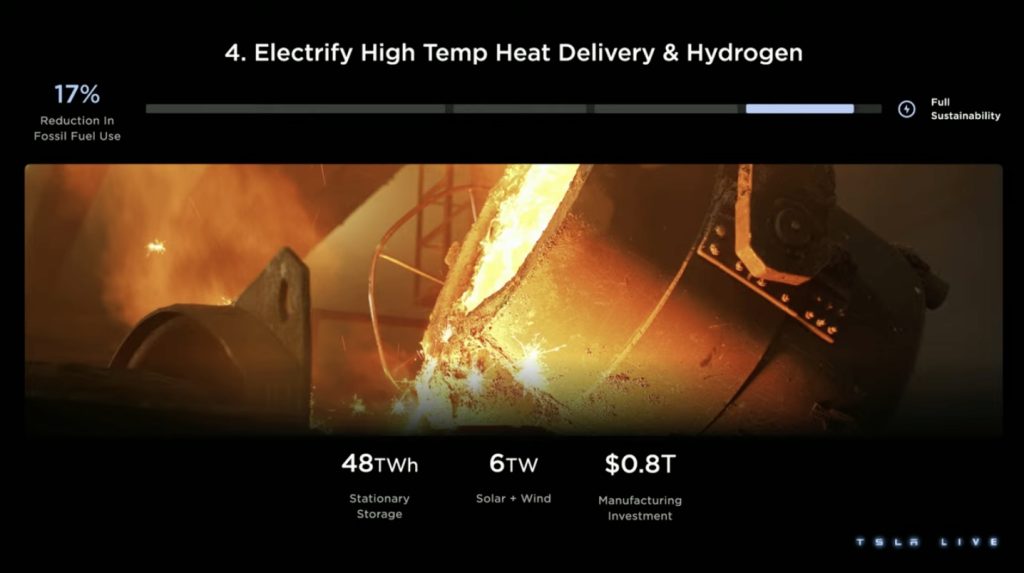 15:43 CST – Tesla gives a quick overview of how Tesla could create a global electric vehicle fleet. The company shows an assumption for a fleet of about 85 million vehicles. That's already substantial.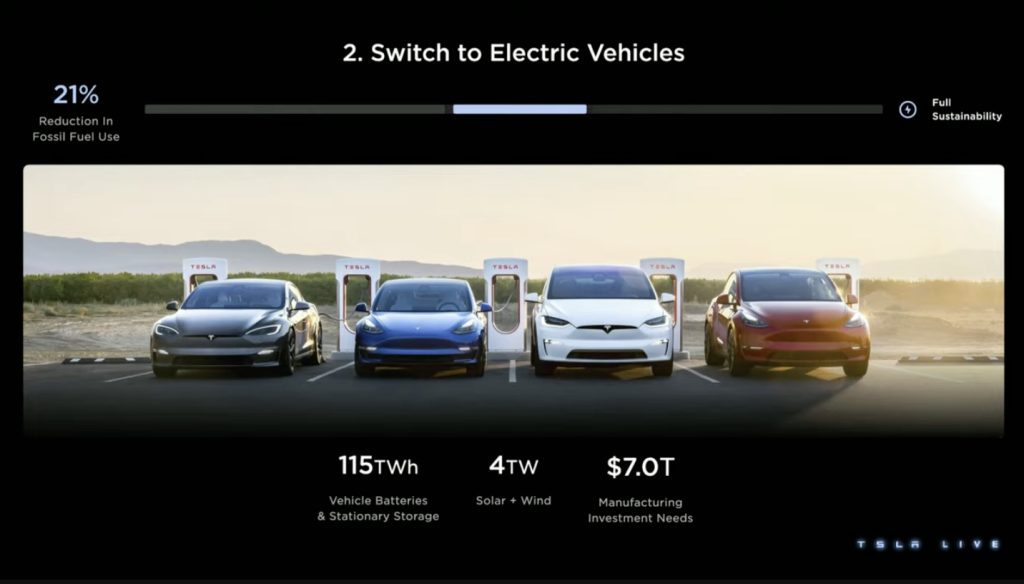 15:40 CST – Elon notes that all forms of transport will probably be electric. But not rockets, at least for now. 
15:38 CST – Elon and Drew show a slide showing what's needed to reach a sustainable economy. The executives noted that while these numbers may seem large, they actually are not if they're compared to the global economy. Just about $10 Trillion investment to build sustainable energy economy.
"For a remarkably small land area, we can go fully sustainable," Musk said. "The electrified economy will use less resources than the (fossil fuel) economy."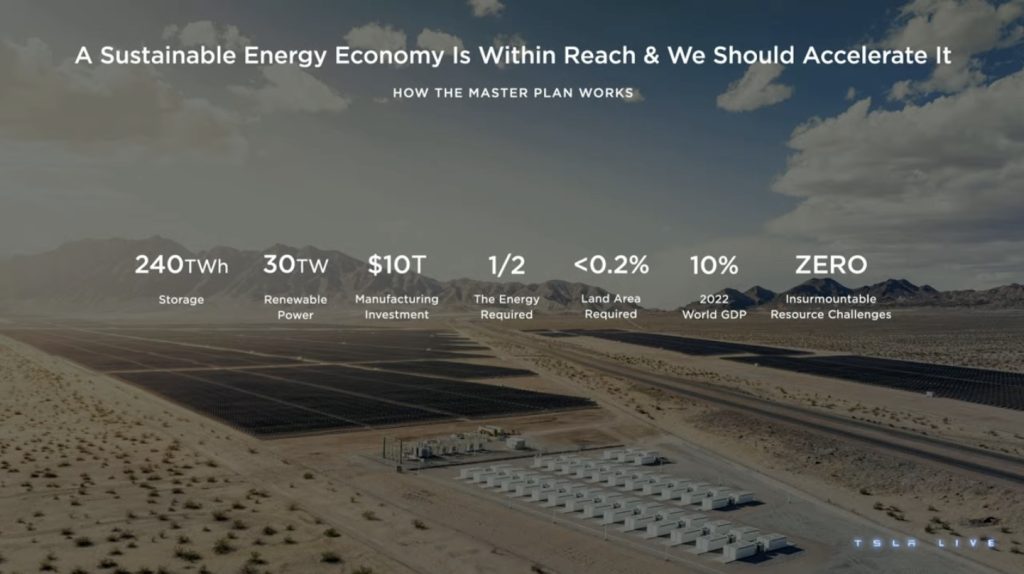 15:33 CST – Drew Baglino notes that today's energy economy is dirty and wasteful, and that 80% of global energy comes from fossil fuels. Musk highlights that the use of fossil fuels actually waste a lot of energy. He also noted that calculations for a sustainable world typically assumes the same wastage as a world powered by fossil fuels. This, Elon Musk noted, is not accurate.
15:31 CST – Elon Musk notes that there is a path towards sustainability, where the Earth could support the 8 billion people today. "There is a clear path to a sustainable energy Earth with abundance," Musk said. 
15:30 CST – Elon Musk and Drew Baglino take the stage for the event's first part. Elon jumps right into it. This is Master Plan Part 3. Here we go.
15:28 CST – And it's starting! CFO Zach Kirkhorn is opening the event. Kirkhorn noted that today, Tesla is not just talking about the near future. 
There will be three parts of the event. One, Tesla's macro vision. Next, it will be focused on Tesla's function. The third will bring everything back. 
15:25 CST – Well, it seems like the stage is ready for the Investor Day keynote. 
15:23 CST – Elon said the presentation starts in about 5 minutes — 8 minutes ago.
15:20 CST – Never change, Tesla. And never change, Elon. 
15:19 CST – Check out these Model Y castings outside Giga Texas. Definitely highlighting this "extreme scale" theme Elon Musk referenced. 
15:17 CST – What are you most excited for in Tesla's 2023 Investor Day? Master Plan Part 3? More Cybertruck deets? The third-gen platform? Please sound off on our comments section below! I'm personally biased for the third-genp platform, but only because I'm a cheap guy by default.
15:14 CST – Well, Tesla is late, and the EV community has a great sense of humor. Who's playing the 2023 Investor Day Bingo? I have a feeling the "wears trademark jacket" and "cracks joke" are getting crossed out really fast.
15:13 CST – I just noticed that the light show graphics that Tesla has been showing in its livestream are shaped like body panels. Look at that, it's the rear seats of the Model Y. It is a Model Y, right?
15:10 CST – The stream for Investor Day has not really started yet, but there are already some nice updates from attendees of the event. Take the Cybertruck production beta, for example. That beast looks pretty good. I'm not sure how to feel about the five-seat layout, though. I kinda miss the six seats in the original prototype.
15:07 CST – A close-up of that Investor Day graphic shows that the EV bodies may be Model Y crossovers, at least based on the shape at the rear. The event is now a few minutes late, which, in Tesla terms, is still pretty early.
15:05 CST – By the way, if you're just joining us, welcome! Here's a livestream of the event too. 
15:02 CST – Tesla's intro video for Investor features the graphic in the event's invite. They were not kidding about this "scale" thing. It reminds me almost of "The Matrix."
15:00 CST – Tesla's livestream link for Investor Day is live! Here we go!
Don't hesitate to contact us with news tips. Just send a message to simon@teslarati.com to give us a heads up.
LIVE BLOG: 2023 Tesla Investor Day