Morgan Stanley analyst Adam Jonas compared Tesla's shopping experience with Amazon Prime in his latest research note. 
Like most of its practices, Tesla has its own way of selling vehicles. Unlike legacy automakers, Tesla sells directly to customers. Traditional OEMs sell through dealerships. Tesla's way of selling cars has highlighted a big issue with dealerships: price markups. 
Jonas wanted to trade in his Sienna for a brand-new SUV. In his recent note, Jonas wrote about his experience buying a vehicle from a dealership. The Morgan Stanley analyst found purchasing a car for MSRP value challenging. Even when he thought he found a dealer willing to sell at MSRP value, he still had to negotiate to pay the OEM's price. 
After finding the variant he wanted for MSRP price online, Jonas called the dealer and coordinator to confirm the unit's VIN and price. After receiving confirmation on the VIN and cost, he drove 90 minutes to pick up his new car. He also took a screenshot of the dealer's price on the store website.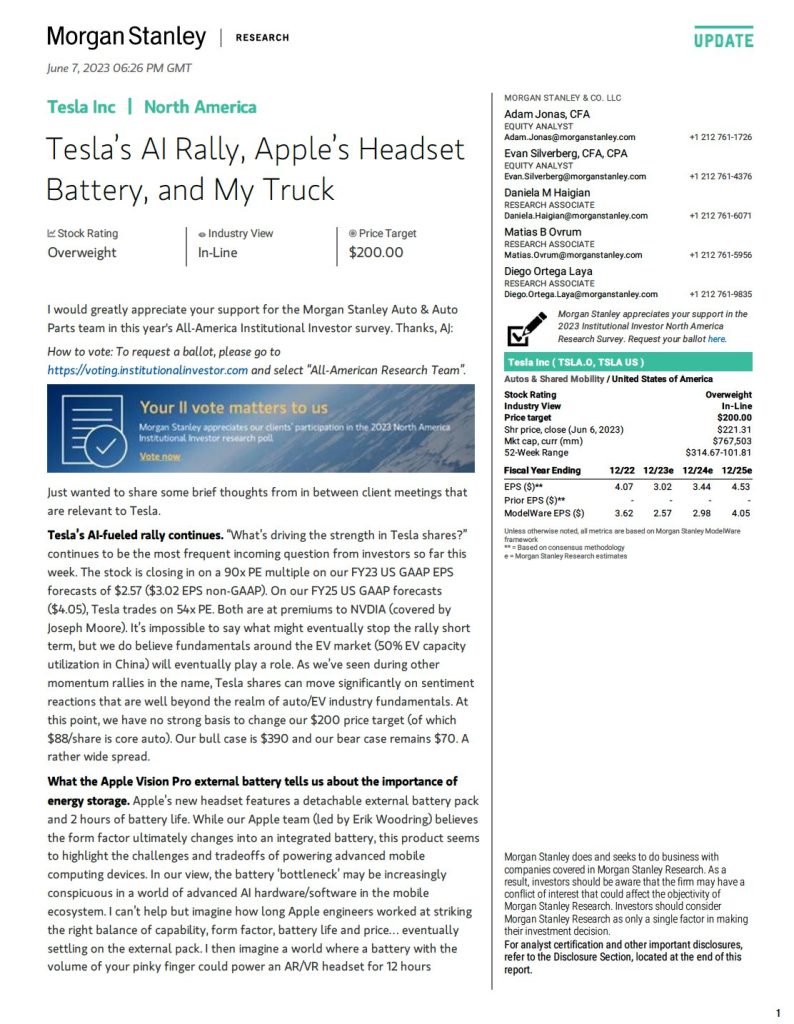 When Jonas arrived at the store, the dealer handling the transaction was surprised that he expected to pay the MSRP value for the new SUV. Even after Jonas said he had confirmed the price with the store's coordinator, the dealer seemed reluctant to give him the MSRP value. 
"Who told you that? No way, I'd normally start someone at least $3k above sticker on this vehicle. You should do your research, buddy," said the dealer. 
Luckily, Jonas has taken a picture of the dealership's website, which stated it was selling the vehicle at MSRP value. He processed his new car smoothly after showing the screenshot to the dealer. 
After the experience, Jonas believes Tesla's sales process is a competitive advantage. 
"While a lot of attention this year has been paid to Tesla's frequently changing prices, within one region, all consumers pay the same price for the vehicle…It's a smooth process that is creating an increasingly visible discrepancy between the legacy car buying experience and the Tesla experience," Adam Jonas wrote. 
"Tesla's ability to own its own stores to make the shopping experience as easy as Amazon Prime while having the ability to 'stack retail' on the downstream recurring revenue, used, and parts/service revenue is the single most underappreciated advantage Tesla has over its legacy competition, in our view."
The Teslarati team would appreciate hearing from you. If you have any tips, contact me at maria@teslarati.com or via Twitter @Writer_01001101.
Tesla shopping experience 'as easy as Amazon Prime:' Morgan Stanley