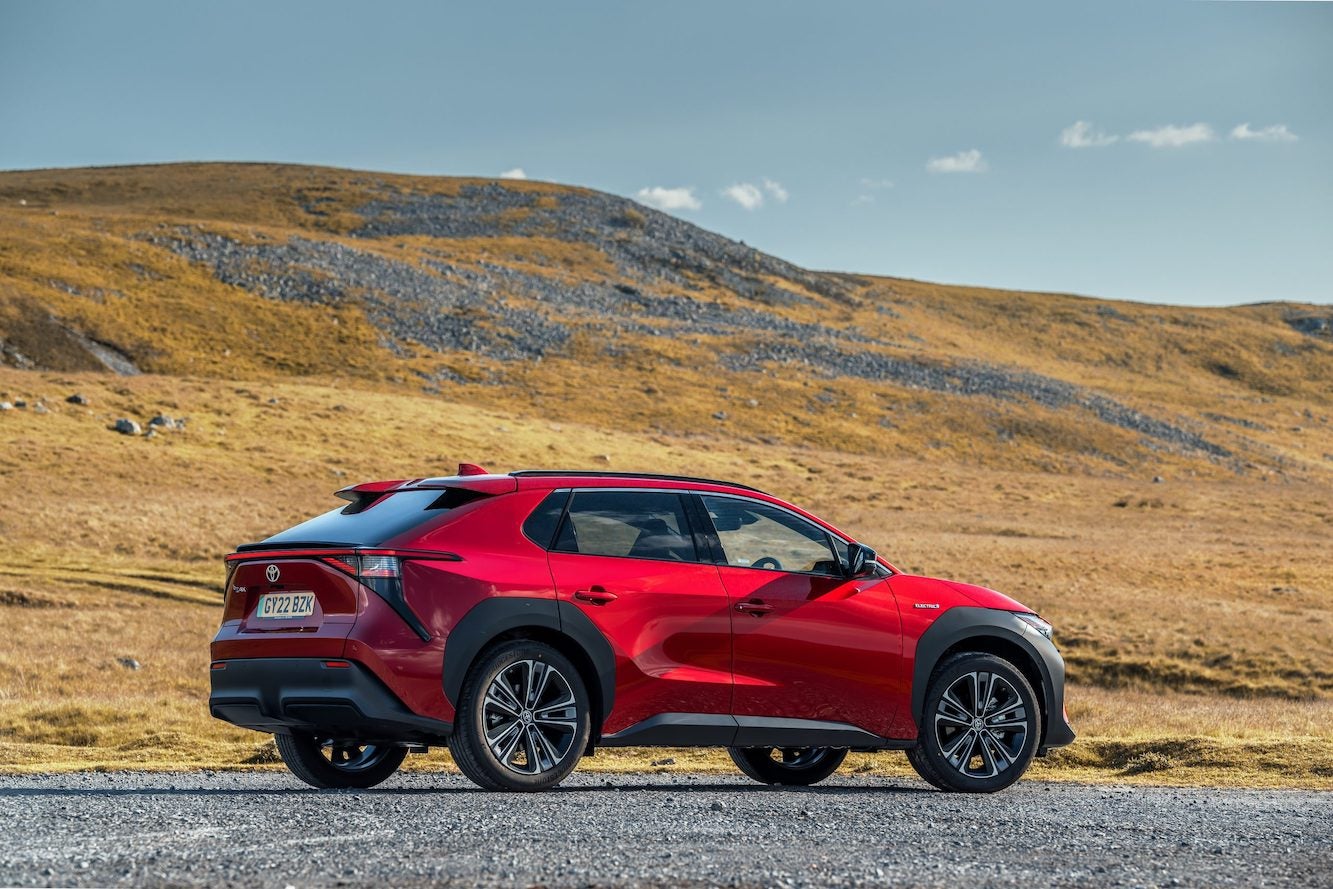 As chairman Uchiyamada retires and Akio Toyoda steps up to replace him, how will Toyota Motor Corporation's incoming president and chief executive Koji Sato make his mark? Perhaps that's the wrong question, as the now former head of Lexus and Gazoo Racing Company inherits a company in arguably its strongest ever state.
It's hardly surprising that TMC's new boss spoke of "accelerating the shift to electrification" as he and his two senior peers addressed the press earlier on 26 January.
Toyota remains committed to all manner of technologies and isn't about to axe its numerous and highly lucrative global array of ICE vehicles. Having said that, Lexus is headed towards an electric-only future and that will happen relatively soon.
This report examines certain of the worldwide electrified line-up of models and what's set to join or replace them later this decade.
Toyota EVs
An array of electric Toyota and Lexus prototypes and concepts plus a preview of the bZ4X (see below) premiered at a special event in December 2021. Among them was the boxy and retro 'Compact Cruiser EV'.
The previewed electric SUV is reportedly headed for production by mid-decade (launch timing is yet to be confirmed). This might also be the 4.2 m long SUV which Toyota and Suzuki are co-developing. The latter company's model is codenamed YY8.
Other forthcoming electric Toyota crossovers and SUVs include models heralded by prototypes badged 'Small SU EV', 'Compact Crossover EV', 'Crossover EV', 'bZ Compact SUV', 'bZ Large SUV', and 'Pickup EV'.
Although we don't yet know for sure which or even how many concepts will have heralded forthcoming production models, there are certain clues in trademark filings. These include applications for the following: BZ1, BZ1X, BZ2, BZ2X, BZ3, BZ3X, BZ4, BZ4X, BZ5 and BZ5X. The C could stand for (Crossover) Coupé.
The bZ4X, which is the brand's first globally-available electric-platform EV in the D segment, also has a smaller brother. The just-launched bZ3X is specific to China and part of a joint venture with FAW and BYD.
If the first 'beyond Zero' model, an SUV, can be thought of an equivalent to the Tesla Model Y, then the bZ3 is close in concept to the Model 3. The 4,725 mm long car had been previewed by the bZ SDN, a concept from 2021.
FAW-Toyota builds the bZ3 in Tianjin on the same production line as the bZ4X. So far, only rear-wheel drive cars are available but an AWD bZ3X is expected to come later. This EV's life cycle will probably be seven years.
Toyota HEVs & PHEVs
Just a few weeks ago, a few official details of the C-HR's successor were announced, along with a concept called C-HR prologue. TMC has confirmed that the next C-HR will be available as both a hybrid and a plug-in hybrid. The model's main markets should be Japan, Europe and the PRC.
It isn't yet clear if this small crossover will also be sold as the Izoa, as the existing one is. That applies mainly in China (FAW Toyota makes the C-HR and Guangqi Toyota calls its slightly modified version the Izoa).
Revealed at the Los Angeles auto show in November, the new Prius has just gone into production. So far, the only plant is Tsutsumi with Japan also the global launch market.
The platform is the second generation of TNGA. This is an evolution of the lightweight architecture which was the basis of all fourth generation Prius variants.
There are two powertrain choices with the plug-in hybrid called Prius Prime in certain countries, including the USA. New there for the 2023 model year, the Prius comes with a 194 horsepower 2.0-litre engine with the Prime – available globally from March – also powered by a 2.0-litre engine. In the USA there are three model grades: LE, XLE and Limited, with SE, XSE and XSE Premium for the PHEV.
Specifications for the Japanese market variants are as follows:
Prius 1.8 – TBA, engine code: 2ZR-FXE
Prius 2.0 – 144 kW (196 PS), electric all-wheel drive, engine code: M20A-FXS
Prius 2.0 PHEV – 164 kW (223 PS), 0-100 km/h in a claimed 6.7 seconds
It's too early to say whether or not there will be a sixth generation, with generation five being likely to remain in production until the end of 2029.
Later in the current car's life cycle – perhaps at the time of a mid-cycle refresh in 2026, there could be a hydrogen-fuelled Prius. This would not necessarily have a fuel cell; rather it would retain a piston engine and be a showcase for this alternate form of zero emissions technology.
The Mirai, which is the Toyota brand's only current fuel cell car, is likely to have a third generation, that vehicle being due in 2026. A new platform can be expected, along with far higher sales expectations, at least in the home market where so-called 'green' hydrogen continues to be championed.
Lexus
The RZ is Lexus' first model to use TMC's e-TGNA. A 4,805 mm long electric crossover, it was launched during the second half of last year in two-motor all-wheel drive RZ 450e form. A single-motor variant will likely follow. We should also expect new battery packs at the time of a mid-life facelift in 2026.
It seems likely that the second generation RZ will be merged with the successor for the RX. These models are similar in size so one EV to replace both makes sense. That should happen in 2029.
Toyota stated in April 2022 as it announced details of the RZ 450e that it 'seeks to attain' 100 per cent EV sales globally by 2035.
A certain level of mystery surrounds many of the cars and SUVs which TMC pulled back the curtain at its special preview event in December 2021. One such is the 'Lexus Electrified Sedan'. Was this a preview of an electric replacement for the ES? That would be certainly be possible as the existing model sells incredibly well in China (as an import) and also does good business in the USA. As for launch timings, a new ES is due in in the second half of 2024.
Among those 15 electric Toyota and Lexus prototypes and concepts revealed just over a year ago was a coupe informally called 'Electrified Sport'. Then in February 2022, TMC released fresh images of what had become an 'Electric Sports Car'.
The production model of what can be thought of a successor for the LFA likely won't arrive until the second half of this decade. It is believed that the 'LFR' could have a range of up to 700 km (435 miles) via solid state batteries.
The bZ4X in detail
As the first model for the 'beyond Zero' sub-brand and the launch vehicle for the e-TGNA modular electric architecture, there's no denying the significance of the bZ4X.
Even if the four-character name isn't too catchy, the vehicle itself has a genuine dose of character. For a start, it looks like nothing else and if not quite as handsome as, say, the Corolla, Mirai or new Prius, there is at least a certain unique style about it. Even the big chunks of grey plastic above the wheels somehow work in what is a forty five thousand pound-plus car.
Other first impressions include an ultra-low bonnet line, super-slim headlights and a back end that also looks like no other EV. The good news continues on the inside where space abounds. That includes the back seat too and even the boot is properly roomy. Those who like a 'frunk' will be disappointed though as there isn't one. Nor, curiously, is there a glovebox.
The steering wheel has an especially small diameter and has just the right amount of buttons. Similarly, most HVAC functions are easily located as they're either physical pieces of plastic or have a set position at the base of the touchscreen.
Acceleration is brisk, steering control precise and the long wheelbase no doubt helps with what is a comfy ride. You can feel the weight of the vehicle, it has to be said, the bZ4X tipping the scales at a minimum of 1,910 kg. X-Mode all-wheel drive versions add a further 150 kilos.
Cars with AWD will zip to 62 mph in 6.9 seconds and even FWD examples need only 7.5 seconds. The WLTP range varies between 257 and 317 miles depending on trim levels or whether there are one or two motors and which axles are driven.
Every bZ4X has a 71.4 kWh battery and a steer-by-wire system. That can include a wing-shaped steering wheel which needs only to be turned through 150 degrees lock-to-lock. Mechanical steering is also available.
The single motor of front-wheel drive variants produces 150 kW and 266 Nm, while AWD versions have an 80 kW motor on each axle (160 kW and 337 Nm combined).
Batteries for examples manufactured in Japan (Motomachi in Toyota City) come from both CATL and Prime Planet Energy & Solutions. The latter is a Panasonic and Toyota JV. The Chinese market's models have CATL-supplied packs.
Being a typically thoroughly engineered and faultlessly-built Toyota gives the bZ4X something of an edge against rival models which may have a better range. There's also an eight-year/100,000 mile battery warranty for those who worry about depletion and resultant resale value. For all these reasons, this new EV should begin to silence those critics who say TMC isn't serious about EVs.
Pricing for the new bZ4X starts at GBP45,710 on the road.
The second of two reports on current and future Toyota/Lexus models will look at those powered by combustion engines and why they are set to continue.