Las Vegas, NV — The three brands nestled under the Hyundai Motor Group banner continue to drive the competition crazy. One of those three brands, Kia, has already forged a hard-reputation for delivering a lot of bang for the buck. Now, they're gunning for global domination.
What other possible scenario is there when they release the 2023 Kia EV6 GT, an all-electric high-performance model and the most powerful and expensive production vehicle in their history? If the thought of Kia priced at $62,695 ($74,495 in Canada) seems outrageous, you may be right. But you're also dead wrong because this thing has the firepower to outgun EVs tagged at twice the price. 
Kia's new 575 horsepower halo car (sorry, Stinger GT)
The EV6 GT's specs and numbers alone tell a big part of the story.
The EV6 GT features a 77.4-kWh battery, a 160-kW front motor and a 270-kW rear motor. While the other models in the EV6 line, introduced earlier in 2022, are focused more on driving range, the GT is all about performance, so range is expected to be "only" up to 206 miles or 330 km. 
The all-electric powertrain generates 576 horsepower and 545 lb-ft of torque, propelling the EV6 GT past the Kia Stinger GT as the brand's new halo car. Manufacturer estimates have the run from 0 -60 mph in 3.4 seconds (0 to 100 km/h taking 3.55 seconds)—so, not too shabby at all. Top speed crosses the threshold at 161 mph or 259 km/h.
"With a base MSRP just over $61,000, Kia is not only introducing an EV performance car, it's showcasing our most powerful production car in company history."

Steven Center, COO and Executive Vice President, Kia America
Built on an 800-volt architecture, the EV6 GT is quick to recharge as well. The thing can go from 10-80 percent charge at a DC fast-charging station in about 18 minutes. The system also features vehicle-to-load functionality, meaning the car Kia can supply power for electric appliances, tools and recreational equipment.
In keeping with this being a true grand-touring machine, the EV6 GT features lots of technical goodies geared towards high performance – and certainly nothing you'll find with other Kia SUV models. There's a sport suspension system, electronically controlled dampers, an electronic limited slip differential, 15-inch ventilated front brake discs, 14-inch rear brakes discs, mono block calipers and Goodyear Eagle F1 tires mounted on 21-inch wheels. 
EV6 GT Interior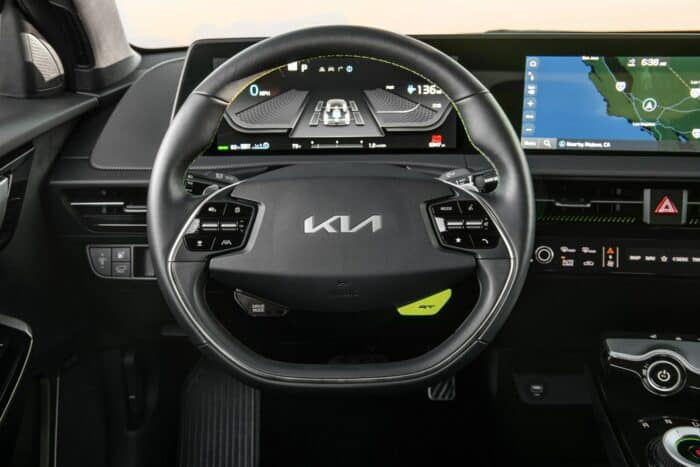 Inside the passenger cabin, the car looks similar to others in the EV6 line, but there are subtle differences. The seats feature the "GT" logo and neon green piping, there's a drive mode selector on the lower left of the steering wheel and a special green-coloured GT Drive Mode selector on the right.
The Active Sound Design system, which is on all versions of the EV6, has two additional settings here, including one that mimics a V8-style rumble, albeit a robotic-sounding V8. But, really, there's no need for artificiality here because the Kia EV6 GT is the genuine article. 
On the road course at Las Vegas Motor Speedway, the car proved its capabilities in a straight line, accelerating quickly and shedding speed impressively. In the faster turns, the Kia was nicely balanced, its e-LSD helping to carve the correct angle with consistency. It was only in the tighter turns and the quick transitions that the EV6 GT revealed that it is, in fact, a fairly weighty vehicle with a large battery pack.  
Nevertheless, this is a small criticism of what is an incredibly well-engineered vehicle. The 2023 Kia EV6 GT may not be for everyone— but it's definitely for everyone who likes their high-performance mixed with more than a little electricity.
Here are some other 2023 electric SUVs and crossovers worth looking at.