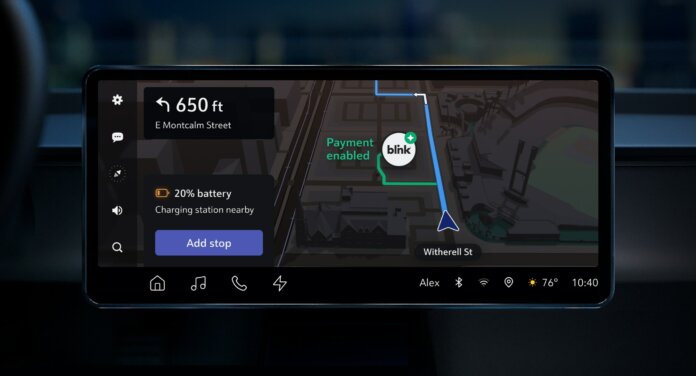 Mapbox, a maps and location platform, has released Mapbox for EV, an end-to-end solution for electric vehicles that accurately predicts available range, helps discover the best charging locations and enables payments directly from the infotainment screen at the charging location.
Mapbox for EV comes as an option in the in-car navigation application Mapbox Dash, or it can be integrated into any in-car or mobile application via Mapbox cloud APIs.
"Today, EV charging is broken," says Peter Sirota, CEO of Mapbox. "Finding functional and available charge points is clunky and the need to download and manage multiple apps for charging is a painful part of being an EV owner, adding to their already substantial range anxiety. Mapbox is working with Automakers and EV Charge Point Operators (CPO) to provide an intuitive charge point discovery and payment experience across in-car navigation and companion apps that delights drivers and supports business objectives of all parties. Together we are building a platform that removes range anxiety and makes charging easier than pumping gas."
EV drivers face a steep learning curve when searching and paying for EV charging. When planning for a long trip, many EV drivers manually search for charging stations across multiple mobile apps to determine which are ideal charging stops out of dozens of options. Mapbox for EV simplifies the process by combining range prediction, charge station discovery and payment all in one place.
"We are excited to be a part of the Mapbox EV solution," comments Brendan Jones, president of Blink Charging. "Mapbox customers can now find and pay for their charging sessions at Blink stations. Blink is committed to supporting the interoperability of its charging network with industry partners. Our partnership with Mapbox will make Blink charging stations accessible from the car's infotainment system with just a few taps."
Mapbox for EV accurately predicts the state of the vehicle's charge for the selected destination and suggests ideal charging stations along a planned route. To do so, it takes into account the vehicle's current state of charge, charge depletion curve, individual driving habits, ambient temperature, speed and slope of the route.
Inaccurate charging information leads to situations in which the destination is hard to find or the charger at the destination is out of order. Mapbox for EV includes up-to-date charge-point pricing information, supported plugs, charging speed, access hours, real-time availability and descriptions on how to find the charging station. In addition, Mapbox for EV captures charging location information, charging success/failure and feeds this information back into the system in near-real time, improving the experience for all connected drivers.
With Mapbox for EV, drivers can pay for charging directly from the vehicle's infotainment system or companion app, eliminating the need to install network-specific applications for charging. Mapbox offers integrations with an automaker's existing wallet solutions or a white-labeled wallet enabling car makers to offer payments via credit card or Automated Clearing House (ACH). For charge point operators, the solution provides a way to integrate loyalty program sign ups and memberships. Currently, Blink, ChargePoint, SemaConnect, Circuit Electrique and Switch integrate seamless payments with Mapbox for EV.
Mapbox for EV is available as part of Mapbox Dash or a set of cloud APIs. It can be used as a turnkey solution or as a building block in existing infotainment systems. Mapbox for EV is modular, each of its components can be utilized independently of each other and in combination with third-party navigation and EV solutions.