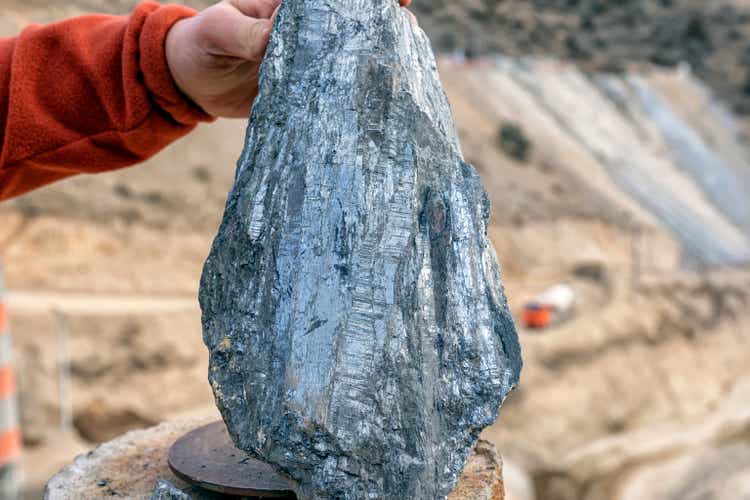 I created the acronym CCLANG as a mnemonic for the most important materials essential to the Electrification Revolution: Cobalt, Copper, Lithium, Aluminum, Nickel, and Graphite. Graphite is the element most used for the critical anode in every EV battery.
In my most recent CCLANG article, about copper, I noted I was buying an exchange-traded fund ("ETF") comprised mostly of pureplay, or as close to pureplay as we can find, copper companies. In my previous CCLANG articles, I identified one aluminum company that I believe stands head and shoulders above any other pureplay. I also discussed three lithium companies that I believe have a good opportunity to grow significantly as primarily pureplay lithium companies.
It would be ideal to find established high quality pure plays with lesser risk for graphite. Regrettably, we must cast a much wider net, push deeper into hoped-for/planned-for growth rather than value, and be far more selective among public graphite companies.
Yet we must. As you can see by the chart below, while demand for all these CCLANG elements are expected to grow, it is graphite that surpasses even lithium in the expected need for increased levels of supply.
There are numerous small graphite companies publicly traded in the U.S. and in the rest of the developed world – we are talking scores of them. However, almost all have their graphite properties themselves in nations without what a prudent investor might consider the rule of law, like we find in Canada, Australia, Europe, the U.S., and so on. Even those with claims in the nations we trust to deal fairly with the miners are typically either startups or penny stocks with no earnings.
Much of the world's "currently known" natural graphite is located in places the U.S. State Department says are dangerous to visit, let alone a place to safely employ workers.
Deep-pocketed mining companies solve such problems by hiring dozens or scores of locals for security purposes. This makes them less of a target, not only because they are willing to pay to protect their miners, but also because the locals in these rural areas tend to be very appreciative of the jobs offered for not just for security, but for mining, transport, food, lodging and so much more.
Smaller firms usually cannot offer this. A company that is already producing in these sorts of areas, like Syrah Resources Limited (OTCPK:SRHYY) (OTCPK:SYAAF), has the advantage. But a company that "Just Secured A Government Contract For What Is Expected To Be The Biggest Graphite Deposit Ever!" has no idea what they are up against. Nor do the touts who write these kinds of headlines.
The Current Situation For Graphite Mining and Processing
Above are today's largest by country producers of essential natural graphite. (Synthetic graphite can also be produced but it is not good for all applications and is an environmental nightmare to produce.)
China is the driving force today. This does not mean that China itself has 60% of the world's graphite within its boundaries. It does not. It simply means that China has agreements in place with certain nations that most free world companies will not do business with, like North Korea. The result is the same, of course. China is the big dog.
The United States and every other nation seeking to electrify their transportation need serious amounts of graphite. Where will we get it? Probably not from China. We need steady suppliers from disparate sources. Depending on one monopolist for graphite (and numerous other metals and materials) leaves the U.S. literally between a rock and a hard place.
The chart reflects only "current production." It does not mean we cannot find other as yet undiscovered sources of graphite. Now that successful mining companies – and friendly governments – are looking where they never did before, I predict there will be numerous other large finds. Even so, this is a years-long process from discovery to production.
We already have exciting news on this front, even though it comes from a different resource. Looking in areas not yet reviewed can pay big dividends:
Just this month, Sweden announced they have now discovered Europe's largest deposit of rare earth metals. They had simply not looked in this area in Sweden's far north before. The government-owned mining company says the find consists of some one million metric tons of rare earth oxides! (Until this discovery, Europe has imported 99% of its rare earth oxides from China.) It will take years to bring refined products to market, but like the old saying goes, "The best time to plant a tree was 20 years ago. The next best time is today."
Yes, China dominates today. However, like the monster rare earth find in Sweden, this does not mean that graphite is only found in the areas on the map above! Just because we see zero production from the USA, Australia, most of Europe, most of Africa, all nations in South and Central America, the Middle East and the 'Stans, does not mean these nations can't find graphite within their borders,
My guess is that natural graphite is located in many more places than have been discovered thus far. What about Mozambique's neighboring countries? Or Russia's? Or Brazil's? And how much might be found in the USA? As recently as 100 years ago, the southern U.S. was producing graphite. There are a couple of companies, albeit small and underfunded to this point, there are exploring in Alabama right now.
Why is graphite so necessary for EV batteries?
The lithium-ion battery currently used to power electric vehicles ("EVs") is made of two electrodes — an anode (negative) on one side of each cell and a cathode (positive) on the other side. For now, graphite has no comparable substitute to create the necessary effect at the anode. There are other variations, but none as effective thus far. Graphite is also the largest component in lithium-ion batteries by weight, which means building a lithium-ion battery takes at least 10 times more graphite than lithium – and, depending on the configuration, often more.
Battery demand alone could very soon easily require 1.6 million metric tons of flake graphite per year. This does not count the current automotive and steel industries that need graphite.
When I express optimism about the possibilities / probabilities of finding additional graphite (and for that matter, many of the other essential elements of our electrification revolution) around the world, I do not discount the possibility that we may find additional sources right here in the USA or our two closest neighbors.
Already, Canada and Mexico supply "some" graphite to U.S. industries. While minuscule compared to Chinese imports, Canada is #3 after China and Madagascar. This may soon change as Syrah Resources expands its production plant in Vidalia, Louisiana and begins importing greater quantities from Mozambique.
You will see below a number of possible sites addressed by the U.S. Geological Survey for graphite, lithium and cobalt within the U.S. Just recently the U.S. Geological Survey updated this analysis, adding more likely graphite deposits in the USA. To my point about finding more outside China simply by looking in more places, please notice the whopping formation in Alaska:
The USGS states the Alaska formation:
"has identified a measured and indicated resource of more than 10 million metric tons of ore with 7.8 to 8 percent graphite. The deposit is being evaluated to decide whether it can move forward to production."
The USGS further notes that:
"sites in this data set include…Alabama, Colorado, Montana, New York, Pennsylvania, and Texas. There are others in California, Connecticut, Georgia, Michigan, New Hampshire, New Jersey, North Carolina, Rhode Island, and Wyoming that have not been included in this database because contained resource and (OR) production of graphite were not found above our cutoff in the public domain for these areas."
Meaning there may be even more.
Let's move on to the one company of more than a dozen that made my final research cut that are already mining for and producing graphite.
Syrah Resources
Syrah is an Australian company. As such, it is financially and legally regulated. It is headquartered in a country with a great history — and familiarity — with mining. We know that as a public company it is subjected to regular audits and oversight of its financial reporting. That is the good news.
The bad news is that their only mine is in the Cabo Delgado region of northern Mozambique. Beyond possible terrorism or sabotage, the local and national governments of some nations require kickbacks, under-the-table payments, and increasingly higher royalties and tariffs. Sometimes they just decide to nationalize a company's assets. Politicians can do that. It is a risk we take when investing in such areas.
At this point, the government of Mozambique seems pleased with its royalty agreement with Syrah. This could change as the government changes. I include for your due diligence before investing the following, taken from the most current CIA World Factbook:
"The ruling Front for the Liberation of Mozambique (FRELIMO) party formally abandoned Marxism in 1989, and a new constitution the following year provided for multiparty elections and a free market economy. A UN-negotiated peace agreement between FRELIMO and rebel Mozambique National Resistance (RENAMO) forces ended the fighting in 1992. In 2004, Mozambique underwent a delicate transition as Joaquim CHISSANO stepped down after 18 years in office. His elected successor, Armando GUEBUZA, served two terms and then passed executive power to Filipe NYUSI in 2015.

"RENAMO's residual armed forces intermittently engaged in a low-level insurgency after 2012, but a late December 2016 cease-fire eventually led to the two sides signing a comprehensive peace deal in August 2019. Elections in October 2019, challenged by Western observers and civil society as being problematic, resulted in resounding wins for NYUSI and FRELIMO across the country.

"Since October 2017, violent extremists – who an official ISIS media outlet recognized as ISIS's network in Mozambique for the first time in June 2019 – have been conducting attacks against civilians and security services in the northern province of Cabo Delgado. In 2021, Rwanda and the Southern African Development Community deployed forces to support Mozambique's efforts to counter the extremist group."
If you can get beyond the political turmoil that "could" occur, and then might affect your investment, there is at least more good news. (I say "might affect your investment" because regime change may not affect Syrah. As long as the company is putting money in Mozambique's coffers, it might not be unduly affected.)
The further good news is that Syrah plans to transport what comes out of their pit mines in Mozambique and vertically integrate that with their pilot (but currently expanding) production facility in the U.S. Here is their value proposition:
They plan to turn the middle row – current share of supply – on its head by taking product from their site in Africa and converting it to the highest grade possible for battery production. It is a bold step, but the U.S. Department of Energy has granted them $102 million, with more to come, to accomplish the major expansion of their "Active Anode Material (AAM)" facility in Louisiana by a factor of four.
Granting further credibility to Syrah, LG Energy recently signed a (non-binding) MOU with Syrah to jointly evaluate natural graphite anode material to ensure the final product satisfies LGE's technical requirements for natural graphite.
Then There is Tesla
For even greater credibility, there is the Tesla (TSLA) agreement. This would be the first major partnership I know of between an expanding EV company and a producer of the graphite that is essential for lithium-ion batteries.
Assuming the final product meets Tesla's specifications, which appears likely, Tesla will buy the graphite from Syrah's processing plant in Vidalia, which processes graphite shipped from its mine in Mozambique. Tesla has said it will purchase 80% of what the plant produces upon full start-up in early 2025. That would mean 8,000 tons of graphite per year.
I believe Tesla needs this capability as much as Syrah does. Tesla understands that its current reliance on China could end at any time. It could be a geopolitical rift between the US and China well beyond Tesla's control. It could be a purely economic issue if Tesla is too successful in China and overshadows Chinese EV makers. Or it could be any other issue as yet unseen. The point is, there is nothing safer for a US manufacturer than to have essential elements of their production with a short supply chain (like Vidalia to Austin!) in a nation with a strong rule of law.
I will further predict that this is just the first of many such relationships. U.S. and other world EV makers, especially those with U.S. or Canadian manufacturing facilities, will be looking to graphite companies in Canada, Mexico, and the U.S. to partner with.
While this next graphic comes to us courtesy of Syrah, it has implications for the success of any miner in any of my CCLANG materials that is now considering the U.S., Canada and Mexico. The demand is rising rapidly; we just need to find the supply as close to home as possible. Overlay this map with the USGS "likely marketable graphite finds" above and you can see the probability of further partnerships.
Syrah Share Metrics
It would be easy to say there are none, but that is not quite accurate. According to the latest Yahoo information, there are something like 1.54 billion shares outstanding – and the shares sell for $1.69 OTC. Syrah is no Vale (VALE) or Rio Tinto (RIO)! "If" the company were for sale, Elon could buy it for what to him is pocket change. It is not for sale. If it were, I suggest it would be for a significant premium over its current price!
Seeking Alpha does not rate Syrah, but the numbers are much as you would expect from a smaller company. Syrah is still not profitable, but the trend of over the 10 years of information that SA provides is encouraging:
Syrah Resources Limited Financials: Balance Sheet
Syrah Resources Limited Financials: Income Statement.
Here are the 5-year and 1-year share price charts:
I have reviewed three other graphite companies, all in favorable regulatory jurisdictions. I will discuss these with our Investor's Edge® subscribers, then perhaps publish for the general SA readership.
Good investing,

Editor's Note: This article discusses one or more securities that do not trade on a major U.S. exchange. Please be aware of the risks associated with these stocks.