Recent reports have indicated that Tesla has signed a high-nickel cathode supply deal with South Korean battery cathode material company L&F Co Ltd. The deal is reportedly worth KRW 3.83 trillion ($2.9 billion). 
The South Korean company shared some details of its deal through a public filing on February 28, 2023. In the disclosure, L&F indicated that its contract period with Tesla would start on January 1, 2024 and end on December 31, 2025. The KRW 3.83 trillion Tesla contract is about four times the company's sales last year, which was listed at KRW 970.8 billion. 
L&F stated in its disclosure that the high-nickel cathode materials it will be providing are intended for use in the automotive, energy generation, and storage sectors in the US and other regions. The supplier noted that the unit sales price of its materials might increase or decrease over the contract period depending on fluctuations in lithium prices.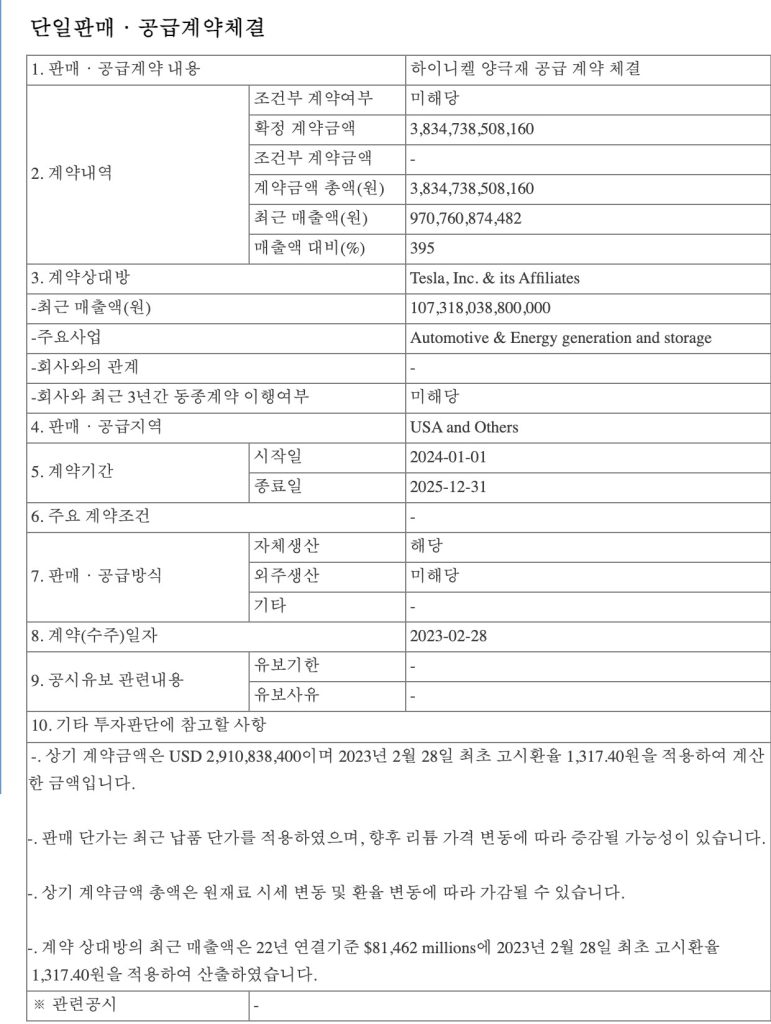 The total amount of the Tesla contract may also change depending on fluctuations in the exchange rate or fluctuations in raw material prices, L&F noted in its public disclosure. Overall, the Tesla deal was perceived well by L&F's investors, with the company's stock rising as much as 19% amidst news of the supply deal. 
Kim Hyeon-soo, a researcher at Hana Securities, estimated that the contract will probably be enough to supply over 780,000 electric cars. Considering that high-nickel batteries are expected to be used by Tesla for products like the Semi and the Cybertruck, the L&F deal could help the EV maker ramp the production of its largest products. 
"This contract is a contract for about 77,000 tons of high-nickel cathode material, which is equivalent to about 783,000 electric vehicles will be supplied," the researcher said. 
Don't hesitate to contact us with news tips. Just send a message to simon@teslarati.com to give us a heads up.
Tesla signs $2.9B battery materials deal with S.Korean supplier L&F: report