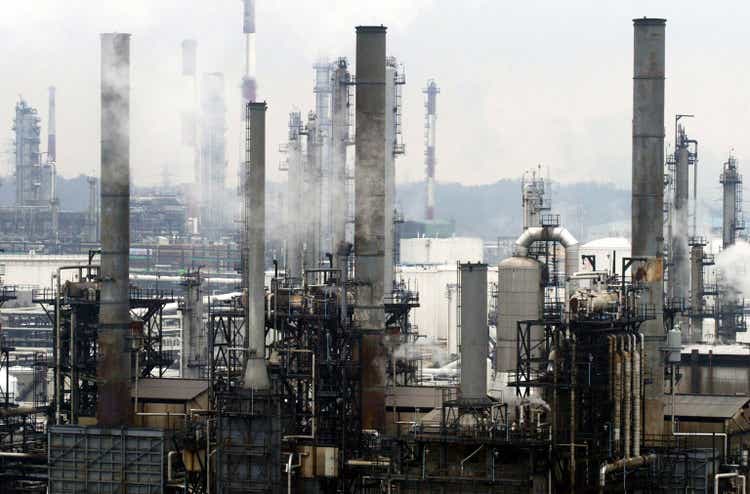 CVR Partners, LP (NYSE:UAN) may be the most commented stock on Seeking Alpha. Four articles by resident expert Publius have garnered FORTY THOUSAND comments over the past two years: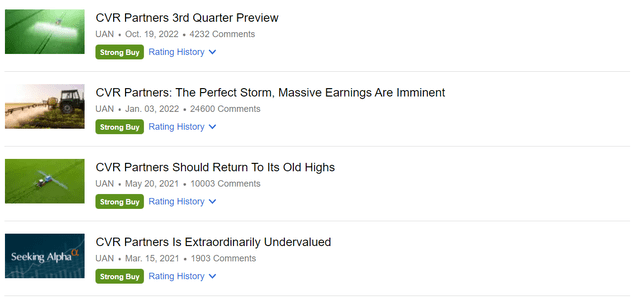 Today, I take the position that UAN's parent company CVR Energy (NYSE:CVI) presents a better risk/reward investment. I can't address all the ink spilled on UAN over the past two years, so I direct readers to Publius's detailed articles for more background.
What Are CVI and UAN?
CVR Energy owns the CVR Refining segment, which consists of two Mid-Continent refineries and associated pipelines. Additionally, CVI is the General Partner (GP) and 37% owner of CVR Partners L.P. UAN owns two fertilizer plants, one of which primarily uses pet coke under a purchasing agreement with the CVI refinery. Carl Icahn's Icahn Enterprises L.P. (IEP) owns 71% of CVI.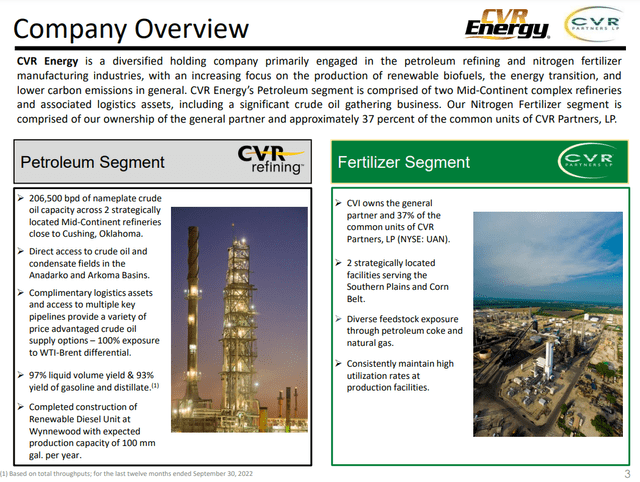 During FY22, CVI distributed $4.80 in 1099 qualified dividends (~15% yield) and has announced their intention to continue paying out excess cashflows primarily via dividends. UAN's variable MLP payout totaled $19.32 of K1 distributions during the year (~20% yield). Remember, UAN's General Partner (CVI) determines the variable payout – more on these implications later. Substantial distributions are anticipated for both entities in 2023, so why do I expect CVI will outperform UAN?
CVI is the Greater Beneficiary of Fertilizer Spin
CVI is exploring a spin-off of its UAN stake (GP + 37%) by creating a holding company (HoldCo) which would trade independently from UAN and CVI. I think UAN shareholders should be weary of an eventual merger between HoldCo and UAN. The GP interest in HoldCo will almost assuredly need to be assigned some value before the two can be merged, which may become evident if the HoldCo and UAN diverge in valuation.
Admittedly, UAN is different because the GP does not have Incentive Distribution Rights (IDRs) or an economic claim on the business, but it does control governance and set distribution policy. Adverse distribution decisions could be made if IEP desired to lower the stock price before acquiring more units through the spin-off or in the open market.
I predict the GP stake is granted ~20% of the pro-forma valuation of UAN, resulting in CVI owning over half of UAN if HoldCo and UAN are combined. This prediction may prove too conservative or too punitive. If we assume UAN's current Enterprise Value (EV) is accurate, ~$500m of value is going to be spun out of CVI. If the HoldCo trades down after the spin, this may become an attractive long/short trade.
Until terms are released, it's impossible to determine exactly how this spin will be received by the market. CVI may consider sending debt with HoldCo. Given the lack of IDR's, I don't think we will see anything as dilutive as the ARLP transaction, but given the lack of conversation around the GP value on Twitter and Seeking Alpha, is this risk is being priced in? Until terms are released, it's impossible to determine exactly how this spin will be received by the market.
CVI May Exceed UAN On Capital Returns
Expected 2023 UAN distributions are widely estimated at $30 – $50 per share (30% – 50%) yield. However, some distributions may occur post spin, and as explained above, we don't know if the spin-off is a precursor to a dilutive merger. If a dilutive merger between HoldCo and UAN occurs, a lower percentage of 2023 distributions will be paid to current UAN unit holders.
Meanwhile, CVI investors will avoid tax risks with the spin and receive distributions without K1s and associated UBTI or foreign withholding issues from UAN units. CVI has been aggressive with special dividends, and FY23 may match FY22 ~15% yield given current cash flow estimates.
UAN Management mentioned attractive Brownfield expansion opportunities each conference call in 2022. There is a risk UAN investors are hit with a 1-2 punch in 2023: 1) dilution in exchange for the GP stake, and 2) a reduced dividend in order to pursue expanded fertilizer capacity. JPMorgan (JPM) estimates up to $200m of CapEx to increase production 15% at each location, which could cut expected distributions significantly. Growth CapEx is not often discussed among UAN investors, making me fearful it is not fully "priced in".
Renewables Segment Upside Accrues To CVI
CVI has made significant inroads on their investments in renewables. Their renewable diesel buildout was approved in April 2022, slowly cutting into costs for Renewable Identification Numbers (RINs) that were previously a strong headwind for the business. Renewable earnings are expected to be material in FY23 and FY24, with JPMorgan estimating ~$30m in earnings per year.
UAN just announced a 45Q deal with their carbon capture partner, offering $22-36m of returns between now and 2030. While certainly a nice value add (and one-time distribution bump), future renewable efforts at CVI have more potential.
Valuations and Expected Returns
Calculating the replacement value of CVI's refining assets is tricky, given the integrated nature of many peers. CVI looks expensive compared to smaller peers like Delek (DK) and HF Sinclair (DINO), and cheaper than larger operators like Valero (VLO).
A new 340,000 bpd refinery in Mexico was built for $18B, which helps estimate replacement value. While a new build is more valuable, replacing the CVI assets would be more expensive in the US and certainly cost more than the implied valuation of ~15k/bpd.
Ballpark comparisons for UAN are a bit cleaner given fertilizer operations are more "pure-play":
Average $810/ton (25% upside to UAN)
Sales of fertilizer plants can be used to evaluate UAN, with an oft-cited Nebraska sale suggesting UAN is 2-3x undervalued, and a near-sale by Petrobras (PBR) being much less favorable. Newbuild costs for UAN's assets would likely exceed even the Nebraska price point.
UAN appears cheap based on the volume metrics above, but must be handicapped by potential dilution from the GP stake. A spinout and merger would lower the CVI EV and raise UAN's.
JPMorgan suggests CVI will generate approximately $1B of FY23 EBITDA, but I've painted a downside case if crack spreads tighten during 2023:
CVI produces ~200k bpd with their refining assets (~93% utilization), and history suggests operating margins could revert to $5/barrel. This would generate ~$350m EBITDA contribution from core refining.
The new renewable diesel segment is anticipating 100m gallons of throughput. Assuming margins of $1.50/gallon, the segment contributes $150m after production fully ramps.

This suggests $500m of normalized FY23 EBTIDA for CVI if crack spreads collapse closer to historic levels of $5/barrel versus ~$10 in the TTM period.
After backing out CapEx, CVI should generate $300-600m of FY23 cash flow, a 10-20% yield that comfortably supports the current share price. Adding the value of the proposed UAN spin between $400-600m, CVI holders would receive a 20% yield on their shares in 2023 (current $3.5B market capitalization), or closer to 30% using JPM's forecast. Despite expectations of 30-50% yield on UAN before any dilution or growth CapEx (and questions on longer-term pricing), I expect CVI to yield more this year.
Risks
The recent drop in natural gas prices may be a concern for UAN, because it decreases their pet coke advantage. With European gas storage better than many expected, there may be production restarts in Europe in the coming months. I don't have exact probabilities to assign to these scenarios, but they are a greater danger than when US gas was over $9, 200% higher than today. If the value of UAN shares fall, both UAN and CVI will be impacted.
A spin provides an opportunity for CVI to renegotiate service contracts, like its pet coke supply agreement with UAN, which could reduce the price advantage UAN enjoys at higher natural gas prices. This could result in a ~$5m annual earnings headwind to UAN and benefit to CVI based on prevailing market prices (UAN paid $40-50 per ton in the past two years):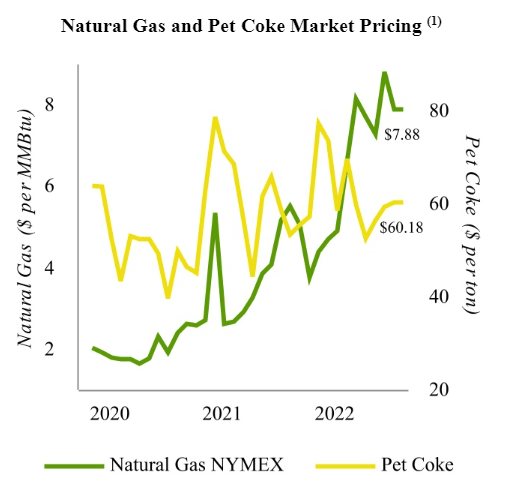 CVI remains a cyclical stock subject to volatile crack spreads. If these spreads collapse in 2023, there will be a greater chance UAN (and/or the HoldCo) outperforms CVI.
Renewable diesel has ardent supporters and detractors, and depending on prices of RINs, corn and soybean oil, new supply entering the market, and crack spreads, the value of the new Wynnewood production may be diminished.
Carl Icahn has a checkered history when it comes to significant stakes in his companies, which CVI and UAN both represent. The UAN GP agreement does not allow for a compelled sale of the company at a discount without 80% ownership, offering some protection compared to the CVR Refining outcome. However, this behavior forms the basis for our concern that a spin may be disadvantageous to UAN holders. CVI is somewhat more protected through its non-MLP structure.
The UAN CEO sold over half of his shares at the end of 2022, which may be for personal reasons, but is not the vote of confidence one would hope for right before a potential spin. Presumably, if this had been done for tax purposes he could have waited until the end of March.
Conclusion
News regarding the spin-off of the fertilizer segment is expected during Q1-23, and I believe the risk/reward skews in favor of a CVI investment over UAN. Investors will be advantaged by the type of dividends being paid, uncertainty around HoldCo dynamics and terms, new renewables efforts coming online, uncertain growth CapEx spending, and possible fertilizer supply concerns due to lower natural gas prices. I expect that CVI will outperform UAN on a total return basis for the next twelve months, and I believe CVI share owners are positioned better than UAN unit owners in the upcoming spin. Do you think the issues I raise are priced in? I am most certain there will be spirited opinions in the comments.