India's largest luxury car maker and market leader Mercedes-Benz India has reported a record-breaking year in 2022. The Pune-based company maintained its strong sales momentum and lead, recording its best-ever calendar year sales of 15, 822 units, which constitutes 41% year-on-year growth (CY2021: 11,242 units).
That the German carmaker was headed for record sales in 2022 was apparent halfway into last year itself – with 7,573 units sold and growing by a robust 56% YoY (January-June 2021: 4,857 units). That meant Mercedes-Benz India had already achieved 67% of its entire CY2021's sales of 11,242 units. What's more, at the time it had its highest-ever order bank of over 6,000 units in the bag.
The strong momentum for the company throughout 2022, despite pandemic-triggered headwinds and global supply constraints, comes from a number of new product launches, local assembly of flagship products including the EQS, sustained demand for existing products and services, and the dynamic omni-channel customer journey created through the 'Retail of the Future' strategy. The new retail approach, part of its 'Reimagine Excellence' programme, is similar to a D2C (direct-to-consumer) model, wherein Mercedes-Benz India directly invoices vehicles to customers.
"The major headwind is the exchange rate being in the rupee's favour over the last 5-6 weeks wherein the Indian currency has slid quite drastically against the Euro. This could mean higher price hikes which could also dampen demand," Santosh Iyer, Managing Director, Mercdes-Benz India, told Autocar Professional.
"While we will wait for a couple of months to assess the currency movement, if it continues to deteriorate, we will have to hike prices as there is no way we can compensate for that." 
"However, we are confident of double-digit growth in CY2023 as well and this stems from a 6,000-unit strong order book situation that we are in at the start of the year," he added.
India's luxury car market leader has sold over 125,000 units between 2013 and 2022 with its best annual sales of 15,822 units coming last year.
Leading the market for the eighth straight year
Despite the growing competition in the luxury car market in India, Mercedes-Benz has maintained its No. 1 position for eight years on the trot. An analysis of the segment's sales over the past 10 years reveals just how dominant the German carmaker is, having grown its market share from 38% in CY2013 to an estimated 45% in CY2022. What's more, the company has, in the past 10 years, surpassed the 125,000-units milestone in the domestic market.
Mercedes-Benz India customers are currently witnessing a waiting time ranging anywhere from 4-9 months. The company aims to reduce it to around 2-3 months by taking proactive steps such as running a two-shift operation at its plant in Pune to produce 80 cars on an average daily. It has also commenced three shifts in specific operations, for instance the body shop, to lower the waiting periods.
However, the availability of parts from Europe continues to be a bigger challenge due to logistical issues emanating out of the ongoing Russia-Ukraine war and "it would still take a fair bit of CY2023 for the situation to resolve."
"The predictability to produce cars has come down due to the challenge in part availability despite semiconductor supply improving significantly," according to Iyer.
LWB-E-Class continues to be best-selling model
For Mercedes-Benz India, the LWB E-Class sedan continued to remain its single highest-selling model in the country and topped demand in CY2022. It was followed by the GLC SUV. Other key models driving growth in the record-breaking year were the C-Class, E-Class, S-Class limousines and the GLA, GLC, GLE and GLS SUVs.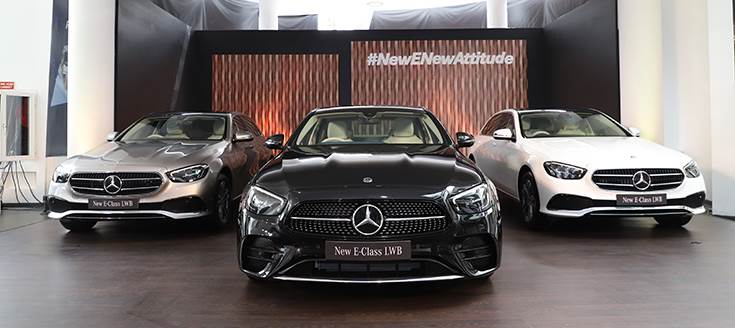 Six-pronged growth strategy for CY2023
Alongside the launch of the first of 10 new models lined up for CY2023, Mercedes-Benz India, on January 6, also revealed its six-pronged strategy to make the brand more desirable in the Indian market.
The company will focus on profitable growth in this calendar and expand its customer base by growing the super-luxury segment (Maybach, AMG, S-Class and EQS) which comprises 22 percent of its overall sales. MBIL's dream run is also being supplemented by a change in customer demographics.
"The average age for an S-Class buyer has come down to 38 years and a lot of young customers as well as female buyers are choosing the Mercedes-Benz brand. Increased customer inclination towards road travel and self-driving is enabling our sales," Iyer said.
While EV offerings are going to be another focus area for the luxury marque, Mercedes-Benz India claims it leads three German companies by a fair margin when it comes to EV sales in CY2022. "We will bring more models as we go along and also strengthen the charging infrastructure which currently stands at 35 ultra-fast chargers at our franchise partners. We are going ahead with a target of 25% sales from EVs by 2025," he added.
The company is also going to leverage digital technology to make the customer journey more seamless as its omni-channel 'Retail of the Future' model has already garnered over 2,000 bookings last year.
CY2023 will now see a step up to this digital-retail concept wherein the Mercedes-Benz portal will also allow business customers to fill their GST details for input-tax credit, as well as offer a fully-transparent view of the carmaker's production schedule months in advance, to allow prospective buyers to book their vehicle in advance.
Investing in people, experience
Mercedes-Benz India is also focusing on people and manpower upskilling to bring a transformation to the buying and ownership experiences of its customers.
"Today, auto retailing in India is not fully professionalised. And that is where, we have tied up with IIM Ahmedabad to come up with a curated a one-year executive programme for auto retailing in the luxury car space. The leadership team of our franchise partners along with other employees will take part in this course to get upskilled to offer a better customer experience," Iyer revealed.
"At the OEM side as well, we are investing a lot on upskilling and certification programmes to make employees ready for tasks of data analytics of the future," he said.
The company will also expand the number of its Premier Express body shops to eight more integrated outlets in CY2023 and also revamp its existing retail outlets with the company's latest Modern Brand Representation showroom layout – that includes a dedicated flagship vehicle display zone – to more markets
Smart uptick in the luxury car market
Mirroring the global trend, the luxury passenger vehicle market in India is seeing a strong rebound in demand. It is also helped by the strong revival in the economy and rising disposable income at the top end. Mercedes-Benz, like other luxury carmakers in India, is benefitting from the overall uptick in this vehicle segment. Earlier this month, BMW India reported its best-ever annual sales – 11,981 units, up 37% YoY.
ALSO READ:
Records tumble as carmakers in India notch best-ever sales of 3.8m units in 2022