Stratford-based electrician Brame Electric Inc. has been hired by the city to install 12 new electric-vehicle charging stations in some of the city's downtown parking lots over the next three years.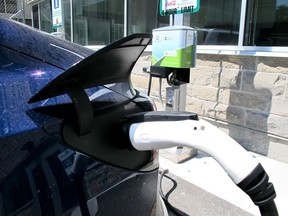 Article content
Despite some councillor concerns about not seeking bids for the project, Stratford council voted Monday to hire Brame Electric Inc. to install 12 new electric-vehicle charging stations in several of Stratford's downtown parking lots.
Article content
In a staff report presented to council at its last meeting of the year, deputy clerk Chris Bantock said the city first enlisted the Stratford-based electrician last year to help with an the funding application for Natural Resources Canada's Zero Emission Vehicle Infrastructure program.
As part of that application, which was ultimately successful to the tune of $160,000 over the next three years, Brame Electric analyzed each proposed site. The work included providing information on the approximate energy load that would be added to each site, the exact location of each site in proximity to Festival Hydro wires, trench locations for conduits and conductors, siting for electrical meters and distribution panels, and any upgrades needed to support the charging stations.
Article content
In total, Bantock said Brame Electric provided roughly $6,000 in in-kind services through project planning with city and Festival Hydro staff to verify site readiness and ensure the funding application would be successful. Bantock told councillors the work was offered at no charge to the city as long as Brame Electric was selected as the eventual contractor for the project.
"I would prefer this go to tender, personally," Coun. Mark Hunter said at Monday's meeting. "I know there was some concern that potentially prices would go up even more. I wonder if there is any other consequence of perhaps … sending this out to tender."
Coun. Taylor Briscoe voiced her own concerns about the transparency of the process in awarding this contract.
Article content
"I'm just worried about the appearance of the benefit to this one (contractor) simply because they answered the phone and now they have this quite large contract coming their way," Briscoe said.
However, Bantock and corporate services director Karmen Krueger told councillors that issuing a tender and finding another contractor at this point could have implications on the amount of funding the city will be able to claim for the purchase of materials necessary for phase-one installations in the spring since the March 31, 2023, deadline to submit eligible project expenses up to that point looms.
"Typically we would leave a (request for proposal) open for at least a three-week period to allow an appropriate amount of time for bidders to put a package together," Krueger said. "Factoring that in, that really only leaves between now and Jan. 3 for staff to get that (request) issued. … The other piece of it is we don't expect we would get a significant response based on the (project) scope we've identified. … The grant requirements are such that we have to receive invoices for product that we've purchased by the March 31 deadline.
Article content
"So depending on what we could run into with an alternative supplier with supply chain issues or with other ordering delays, I would say that could potentially impact those timelines as well."
Krueger also noted that putting a project out for tender over the holidays – especially a project with such specific requirements – would likely limit the number of responses from qualified contractors.
Coun. Bonnie Henderson also pointed out that contractors qualified to complete the installations of these charging stations could be in high demand because of the Natural Resources Canada grant program. Coun. Jo-Dee Burbach further suggested any delay in the project timeline could result in increased construction costs.
Article content
"The costs that we've been provided by (Brame Electric) have been reviewed internally and were just noted as being fair and appropriate based on that review," Bantock said.
In addition to the $160,000 in federal funding from Natural Resources Canada, the city has budgeted more than $317,000 for the installation of 11 dual-output level-two electric-vehicle charging stations and one single-output level-three charging station between 2022 and 2025.
The city has not yet announced where the new charging stations will go, only that they're "proposed for location in various downtown parking lots" and that staff expects the contractor to break ground in the spring.