In what is most likely the first real word test for survivability in AAM, the vehicle's destruction was "beyond expectations."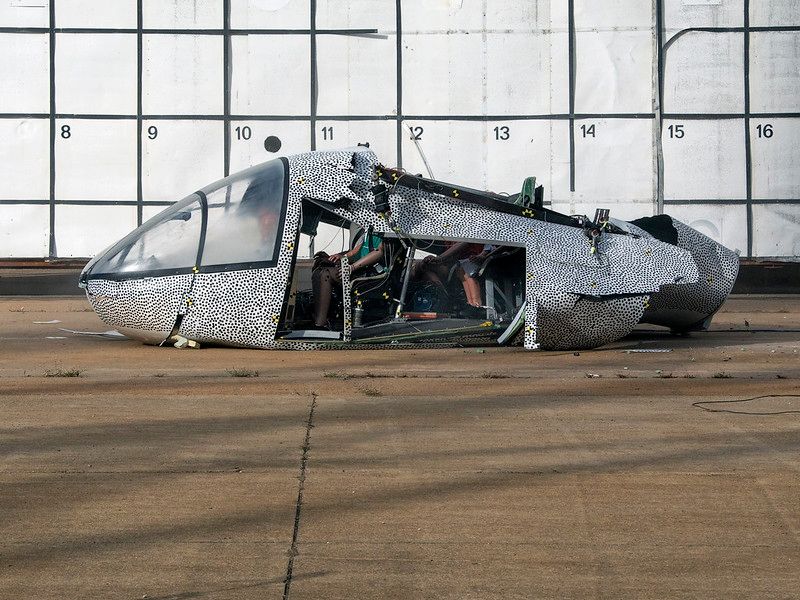 Electric vertical takeoff and landing vehicles (eVTOL) are set to change the urban and regional transportation landscape – the question is, by when? Many developers are looking for certification by the end of 2024 or possibly 2025.
Of course, in order for an airborne machine carrying not only goods but people to receive certification from regulatory bodies, it must undergo rigorous testing programs. Earlier this month, NASA announced it had completed a full-scale crash test of an eVTOL at the Landing and Impact Research (LandIR) facility at the Langley Research Center in Hampton, Virginia.
Valuable data from significant destruction
NASA put crash test dummies in the vehicle, then hoisted it up in the air before releasing it with pyrotechnic cutters, letting it swing before crashing heavily on the ground. The vehicle, a 'Lift+Cruise' test article, was "destroyed beyond expectation," which NASA says provides researchers with valuable data when planning to make Advanced Air Mobility (AAM) safe for the public.
While most eVTOL concepts in the making are looking at a four-passenger plus one pilot configuration, NASA's test article had space for six crash test dummies. However, instead of a wing structure, rotors, and a battery, an over-cabin mass with the same weight was mounted to the vehicle.
The test itself featured several seat configurations as well as different sizes of dummies and a modular NASA-developed energy-absorbing composite subfloor. Furthermore, it was overseen by 20 cameras, both on- and off-board, and much of what they captured can be seen in the footage below.
Overall collapse not predicted by models
The test provided Langley with over 200 channels of data. Justin Littell, a research assistant for Langley's Structural Dynamics Branch, said that,
"Our computational pretest models did a good job predicting the composite deformation until overhead structural failure. However, the computational models did not predict the overall collapse as seen in the test."
This would suggest that, while to a great extent, we can use computational tools, such as digital twins, in today's manufacturing processes, there is still no substitute for testing the actual hardware.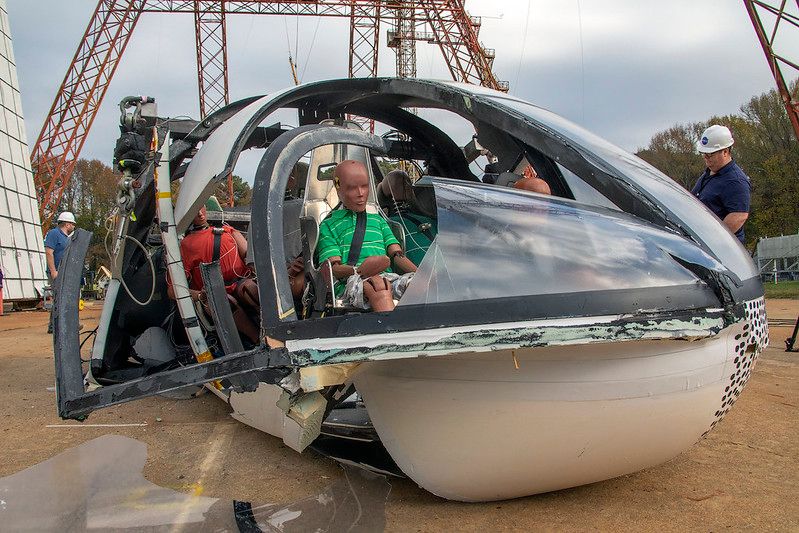 Photo: NASA / Dave Bowman
NASA to support AAM for underserved locations
The 'Lift+Cruise' test article was developed by the Revolutionary Vertical Left Technology (RVLT) project in another effort for NASA to advance research for the Advanced Air Mobility (AAM) mission. NASA is running an Advanced Air Mobility National Campaign, which provides technical expertise and research while also making funding available to over 30 industry partners. The organization says that its mission is to:
"help emerging aviation markets safely develop an air transportation system that moves people and cargo between places previously not served or underserved by aviation"
How long will eVTOLs need to be in regular operation before you want to fly on one? Are you team "cutting edge innovation – sign me up!" or more of the cautious "let's see how this develops first" type of flyer? Leave a comment below and share your thoughts.
Source: NASA